Publication:
La lectura incestuosa de "La vida es sueño"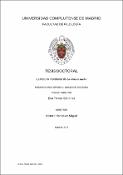 Files
Authors
Advisors (or tutors)
Editors
Publisher
Universidad Complutense de Madrid
Abstract
It has been said so much about "Life is a Dream" that it seems not to be probable to say anything more, but on the other hand there is such a disagreement and plurality concerning the criticism that is related to the work that it looks like there is still so much left to say about it. Being the debate between these two views, our work tries to focus on the consequences that are derived from the analysis of a character who is never appeared on the stage and is barely named along the text. This character is not other but Clorilene. It has been only two times in which her name comes on the scene and that is the reason why the critics have considered appropriated to talk about two different characters. However, there have also been some people who support the idea about these two Clorilene could be the same character, that is the same person. All doubts are left out by contextualizing the subject and taking into account that if Clorilene who is Basiliós sister and the other Clorilene who is Basiliós wife are the same character, then we would be talking that such a coincidence could be incest. So Segismundo would be the son of such incest. On our opinion, there is no need to insist more on the legitimacy of the incestuous reading of "Life is a Dream", so the contributions we count on are enough to be sure about their validity. However, our work takes an enough span to account for the accumulated bibliography about the case, although it is not very numerous, it is useful. The aim of this thesis is not to question the existence of the incest. It would not be a novelty and as we have said before, the incest is there and it works. However, what is still left to do is an exercise of general interpretation about "Life is a Dream" and to analyze to what extend it could be relevant the reason for the incest or if it is not other thing that a word game that the author ventured without much pretension that the "onomastic incest" which Maurice Molho referred to...
Description
Tesis inédita de la Universidad Complutense de Madrid, Facultad de Filología, leída el 28/09/2015
Collections