Publication:
Estudio prospectivo de bacteremias por anaerobios en un hospital de tercer nivel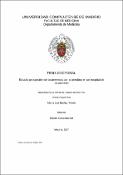 Files
Authors
Advisors (or tutors)
Editors
Publisher
Universidad Complutense de Madrid
Abstract
Las bacteriemias por anaerobios son una entidad con una baja frecuencia, a pesar de lo cual poseen una alta tasa de mortalidad. Para este trabajo se ha realizado un estudio prospectivo sobre los episodios de bacteriemia por anaerobios en el Hospital Clínico San Carlos, Madrid (España), con el objetivo de analizar los factores de riesgo y pronósticos, las bacterias mas frecuentes y las resistencias antibióticas, relacionados con esta entidad. 1.2. Objetivos  Determinar la incidencia de esta entidad.  Determinar las bacterias anaerobias más frecuentes en las muestras recogidas y, según los antibiogramas, el tratamiento más adecuado.  Asociar factores de riesgo con el pronóstico de los pacientes.  Valorar la utilidad y representatividad de determinados índices de gravedad y comorbilidad y analizar el valor pronóstico y la aplicabilidad. Material y Métodos Se ha recogido una serie de casos registrados durante el período comprendido entre mayo de 2012 y abril de 2014, en el cual, se registró información sobre la gravedad de 62 episodios de bacteriemia causados por bacterias anaerobias en el Hospital Clínico San Carlos, Madrid. El punto principal de este estudio consiste en el desarrollo de una relación estadística entre estos datos y los diferentes índices de gravedad y morbilidad que cuenta el estudio: Índice de Pitt, índice de Charlson y el Índice de Possum. Con una búsqueda previa de información sobre la situación basal de los pacientes y las características de la bacteria causante (género, familia o sensibilidad a antibióticos, entre otros), se desarrolló un estudio estadístico de los datos mediante la prueba no paramétrica de Kruskal-Wallis. 1.4. Resultados Mortalidad del 25,4% de los casos recogidos. Bacteriemias nosocomiales producen cuadros infecciosos más graves. Paciente oncológico presenta predisposición por la inmunodepresión y por los tratamientos con citóstaticos y con radioterapia que se ha visto que aumentan la mortalidad. Han aparecido más cuadros de shock séptico entre los pacientes que habían recibido antibioterapia previamente que en el resto de la población. El estudio reveló que el índice de Pitt, supone una buena prueba para predecir la evolución (mortalidad o la resolución del episodio) en estos casos de bacteriemia. 1.5. Conclusión Elevada mortalidad en este tipo de infecciones. Bacteroides fragilis es la bacteria más frecuente y la que produce cuadros clínicos más graves. Imipenem y Piperazilina-Tazobactam no presentan resistencias en las bacterias recogidas. Existe alta resistencia a Clindamicina. Índice de bacteriemia de Pitt es buen predictor de evolución en cuadros infecciosos.
Anaerobic bacteremias despite their low frequency, they can cause high mortality rates. It has been done a prospective study on the episodes of anaerobic bacteremia obtained at the Hospital Clínico San Carlos, Madrid (Spain), in order to analyse risk and pronostic factors, the most common bacteria and antibiotic resistance, related to this subjet. Goals  To determine the incidence of this entity.  Determine the most frequent anaerobic bacteria in samples collected according susceptibility and the most appropriate treatment.  Risk factors associated with the prognosis of patients.  Asses the usefulness and representativeness of certain severity and comorbidity indices and analyze the prognostic value and applicability. Matherial and methods Serial of cases registered during the period between May of 2012 to April of 2014, in which were gathered information about the severity of 62 episodes of bacteremia caused by anaerobic bacteria at the Hospital Clínico San Carlos, Madrid (Spain). The main point of this study consists of developing a statistical relationship between the evolution of these episodes and the different severity and morbility index: Pitt Index, Charlson Index and Possum Index. After collecting information about the basal situation of the patients and the characteristics of the causative bacteria: type, family or antibiotic sensibility, we developed a statistical study of all data using the non-parametric test Kruskal-Wallis. Results Mortality of 25.4% of the cases reported. Nosocomial bacteremia produce more serious infectious processes. Cancer patient has a predisposition for immunosuppression and treatment with cytostatic and radiation therapy has been shown to increase mortality. They have more pictures of septic shock appeared among patients who had received antibiotics previously in the rest of the population. The study revealed that the rate of Pitt, is a good test to predict outcome (mortality or termination of the episode) in these cases of bacteremia. Conclusion High mortality in these infections. Bacteroides fragilis is the most common bacteria and producing more severe clinical pictures. Imipenem and piperacillin-tazobactam have no resistance in bacteria collected. There is high resistance to clindamycin. Pitt bacteremia Index is a good predictor of infectious picture evolution.
Description
Tesis inédita de la Universidad Complutense de Madrid, Facultad de Medicina, Departamento de Medicina, leída el 02-02-2016
Collections