Publication:
Assessing the cleaning methods on the limestone façades in the formerly Workers Hospital of Madrid, Spain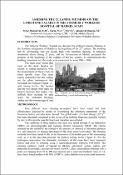 Advisors (or tutors)
Editors
Publisher
International Rivers and Heritage Institute Université d´Orléans
Abstract
The former Workers Hospital was designed by architect Antonio Palacios in the Northern enlargement of Madrid at the beginning of the 20th century. The building and its surrounding wall are mostly built with limestone masonry. It remained abandoned almost during 25 years, and the Government of Madrid purchased the property at the beginning of the eighties of the last century. It commissioned the building restoration, and the works were carried out between 1984–1986. The main decay forms that exist on the stone façades are related to soiling processes, with the development of black crusts in some specific areas. The main causes responsible for this soiling are the urban environment that surrounds the Hospital -with intense traffic-, the façades and the wall design with many set backed elements that makes very difficult their washing by rain water, the rusticated finishing ashlars and the own passage of time.
Collections