Publication:
Control of utrastrongly coupled systems in circuit quatum electrodynamics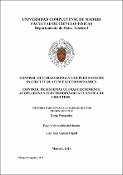 Authors
Advisors (or tutors)
Editors
Publisher
Universidad Complutense de Madrid
Abstract
Quantum information science is an emerging and multidisciplinary field whose ultimate goal is to take advantage of quantum phenomena, such as superposition and entanglement, in order to improve the information storage, commmunication and computation. Among all the disciplines spanned by QIS, quantum computing and quantum simulations have attracted a great deal of attention, as they aim to solve problems which are nowadays impossible to access with classical computers. There exist several proposals for implementing both quantum computers and quantum simulators, all of them based on different physical systems. Trapped ions, ultracold atoms, NMR systems, quantum dots or superconducting circuits are some examples of quantum simulators. Indeed, superconducting circuits are particularly suitable for implementing those devices, since they posess strong interactions, it is straightforward to scale them up, and are easily controllable..
El rápido avance tecnológico que experimenta nuestra sociedad se debe en gran medida al excelente progreso en los procesos de miniaturización de los dispositivos electrónicos. Ello ha permitido llevar al transistor, piedra angular de la electrónica y ubicuo en cualquier circuito integrado, a la escala nanométrica, mejorando con ello el procesado de la información. Sin embargo este proceso de miniaturización no se puede realizar de forma indefinida, y dicho avance tecnológico tal y como los conocemos actualmente, verá su fin cuando los microchips alcancen un tamaño en el que la mecánica cuántica rija dinámica de sus constituyentes. A esas escalas microscópicas los electrones que circulasen por un circuito integrado, lejos de estar confinados en la guía de ondas por la que se propagan, podrían atravesar la misma (suceso conocido como efecto túnel) destruyendo así toda transmisión de información que estuviesen llevando a cabo. Se hace así imprescindible un avance cualitativo que permita reconciliar dicho progreso tecnológico con las leyes de la mecánica cuántica...
Description
Tesis inédita de la Universidad Complutense de Madrid, Facultad de Ciencias Físicas, Departamento de Física Teórica I, leída el 25-10-2013
Collections