Publication:
Megalitismo y Arqueoastronomía en la comarca de Los Pedroches (Córdoba, Andalucía-España)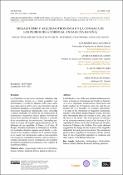 Advisors (or tutors)
Editors
Abstract
Los Pedroches es uno de los territorios andaluces más septentrionales, situado en el límite geográfico con Extremadura y Castilla-La Mancha. Sobre unos suelos poco aptos para el cultivo, pero muy favorables para la explotación ganadera, se encuentran una serie de manifestaciones megalíticas diseminadas, poco conocidas y apenas estudiadas. El estudio de las orientaciones de monumentos megalíticos puede aportar información acerca de las nociones del espacio, el tiempo o la muerte de las sociedades que los construyeron. Este trabajo presenta un avance del estudio arqueoastronómico de los dólmenes de Las Aguilillas, El Torno, Los Frailes, El Rongil y Torrubia, localizados en Villanueva de Córdoba. Los resultados obtenidos sugieren que el diseño y la ubicación de los megalitos incluidos en el presente estudio no es casual. Las orientaciones dadas a estos megalitos son, en general, compatibles con ortos solares o lunares y resultan consistentes con las orientaciones de conjuntos de sepulcros megalíticos en Andalucía y otras regiones de la península ibérica.
Los Pedroches is one of the most northern Andalusian territories, bordering on Extremadura and Castilla-La Mancha. A series of megalithic manifestations, little known and hardly studied, can be found on some soils unfit for cultivation but very favorable for livestock exploitation. The study of the orientations of megalithic monuments, together with further archaeological records, provides more information about the concept of time, space and the ideas of the death. This work presents an advance of the archaeoastronomical study of the dolmens of Las Aguilillas, El Torno, Los Frailes, El Rongil and Torrubia, located in Villanueva de Córdoba. The results obtained suggest that the design and the location of the megaliths included in this study are not accidental. The orientations given to these megaliths are consistent with the orientations of sets of megalithic sepulchers in Andalusia and other regions of the Iberian Peninsula.
Collections