Publication:
El Pacto Verde, NextGenerationEU y la nueva Europa geopolítica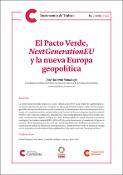 Authors
Advisors (or tutors)
Editors
Abstract
La Unión Europea ha dado respuesta a la crisis climática, la COVID-19, la erosión de la globalización, y un entorno internacional adverso a través de tres estrategias interrelacionadas: el Pacto Verde Europeo, que define un nuevo modelo de desarrollo económico y social orientado a la descarbonización de la economía y el cumplimiento de las metas climáticas del Acuerdo de París; el programa NextGenerationEU (NGEU), como respuesta contracíclica a la pandemia, y mecanismo financiero para acelerar la triple transición socioeconómica, digital y ecológica de la UE; y la búsqueda de una mayor soberanía o autonomía estratégica. Este trabajo examina NGEU y el Pacto Verde como elementos del relanzamiento del proyecto europeo, y de la respuesta societal de la UE a la crisis de la globalización. También se analiza cómo la invasión rusa en Ucrania ha inducido la convergencia de las metas del Pacto Verde en materia de energía con los imperativos de soberanía energética planteados por la aparición de una "Europa geopolítica".
The European Union has faced the climate crisis, the COVID-19, the erosion of globalization, and an adverse international scene, through three interrelated strategies: the European Green Deal, which defines a new model of socioeconomic development, in order to decarbonise the economy and achieve the climate goals of the Paris Agreement; the NextGenerationEU program, which proposes a countercyclical response to the pandemic, and is a financial mechanism to accelerate the EU's triple transition —digital, ecological and socioeconomic—; and the pursuit of a strengthened sovereignty, or strategic autonomy. This paper examines NGEU and the Green Deal as elements for relaunch the European project, and as a EU's societal response to the globalization crisis. It also analyzes how the Russian invasion of Ukraine has induced the convergence of the Green Deal's energy goals with the imperatives of energy sovereignty raised by the Europe's geopolitical awakening.