Publication:
Interacción analgésica entre antiinflamatorios no esteroideos (AINES) y opiáceos durante la anestesia inhalatoria en la rata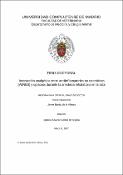 Files
Authors
Advisors (or tutors)
Editors
Publisher
Universidad Complutense de Madrid
Abstract
La reducción de las necesidades de anestésicos inhalatorios mediante la coadministración de analgésicos intraoperatorios conlleva un incremento del margen de seguridad del paciente pero también una disminución de la polución ambiental y una reducción de costes. La combinación de diferentes tipos de analgésicos puede incrementar dicho efecto ahorrador de anestésico e incluso se ha observado un efecto potenciador derivado de la administración conjunta con de inhibidores de la ciclooxigenasa (COX; por ejemplo, antinflamatorios no esteroideos – AINEs). Existen sin embargo trabajos recientes, y aparentemente contradictorios, que sugieren un diferente grado de potenciación analgésica (medido en términos de reducción de la Concentración Alveolar Mínima de un agente halogenado - CAM) de los opioides según el inhibidor de la COX coadministrado durante la anestesia inhalatoria. Nuestra hipótesis planteaba que dicha potenciación del efecto analgésico producido por la asociación de opioides e inhibidores de la COX puede diferir según el fármaco inhibidor considerado, debido a una afinidad diferenciada (selectividad) por los tipos de receptor de la COX. Conceptualmente nuestra hipótesis planteaba que si determinábamos que inhibidores de la COX son susceptibles de producir un mayor grado de potenciación en la reducción de la CAM de los opioides intraoperatorios, podríamos conocer que fármacos permiten una disminución de las necesidades de anestésicos inhalatorios mayor, y que finalmente se traduciría en un incremento de la seguridad para el paciente y el personal, y en un ahorro de los costes derivados...
The reduction of the requirements of inhalant anesthetics by coadministration of associated intraoperative analgesic drugs produces an increased margin of safety of the patient and furthermore a decrease in environment pollution and a reduction of costs. The combination of different pharmacological pain killers may increase the anesthetic sparing effect and it has even seen an enhancing effect derived from the combination therapy with inhibitors of cyclooxygenase enzyme (COX, such as non-steroidal anti-inflammatory drugs - NSAIDs). However, there are recent studies seemingly contradictory which suggest a different level of analgesic potentiation of opioids drugs (measured in terms of reducing the Minimum Alveolar Concentration of halogenated agents - CAM) according to the coadministered COX inhibitor during inhalant anesthesia. Our hypothesis was that the potentiation of the analgesic effect produced by the association of opioids and COX inhibitors may differ depending on the inhibitor drug considered due to a distinct affinity (selectivity) for the different types of COX receptors. Conceptually our hypothesis was that if we determined which COX inhibitors are more susceptible to produce a greater enhancement in reducing the intraoperative CAM produced by opioids drug, we would know which family of COX inhibitor drugs could allow a higher decrease of inhalants anesthetic requirements and finally as a result in, an increase in safety for the patient and the staff, and a saving of the costs involved...
Description
Tesis inédita de la Universidad Complutense de Madrid, Facultad de Veterinaria, Departamento de Medicina y Cirugía Animal, leída el 28-01-2016
Collections