Publication:
Las embajadas italianas del Marqués de Villagarcía: correspondencia y noticias durante el periodo Genovés (1672-1677)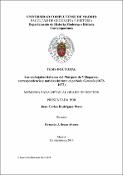 Files
Advisors (or tutors)
Editors
Publisher
Universidad Complutense de Madrid
Abstract
La designación en 1672 de don Antonio Domingo de Mendoza, futuro marqués de Villagarcía, como nuevo embajador extraordinario ante la república de Génova le proporcionó nuevas oportunidades de promoción para un joven noble. Con su nuevo puesto en la península italiana logró dar inicio a su cursus honorum dentro de la administración de la Monarquía Hispánica, una carrera que a lo largo de su vida le llevó a desempeñar importantes cargos al servicio de Carlos II y Felipe V. Pero sin duda uno de los aspectos fundamentales de sus cinco años en Génova será el desarrollo de unos canales epistolares que conectarán su embajada con la mayoría de los principales actores políticos de la Corona Católica. Don Antonio, procedente de una familia gallega que había ido ganando influencia a lo largo del siglo XVII, pero que no tenía contactos fuera de la península Ibérica, se sirvió de la correspondencia para dos usos diferenciados. El primero, exigido por el gobierno de Madrid, fue el intercambio regular de noticias y opiniones con los demás servidores regios y con la propia corte madrileña. El segundo,asignado por decisión propia, utilizaba la carta como un instrumento no solo de comunicación de avisos y novedades con otros aristócratas, sino también como medio para cumplir las funciones sociales que la nobleza consideraba inherentes a su condición...
The designation in 1672 of don Antonio de Mendoza, future marquis of Villagarcía, as the extraordinary ambassador to the republic of Genoa brought him a new possibility of promotion for a young nobleman. With his new position in the Italian peninsula he was able to start his career in the administration of the Hispanic Monarchy. During his life he will occupy important positions at the service of Carlos II and FelipeV. One of the fundamental aspects of his five years in Genoa will be the development of the epistolary channels that connect his embassy with the rest of the political actors that the Catholic Crown had throughout Europe. Don Antonio, coming from a Galician family, had been gaining influence during the seventeenth century, but he had no important contacts outside the Iberian Peninsula. He used the correspondence for two different functions: the first one, imposed by the Madrid government, was the regular exchange of news and personal thoughts with the other royal servers and with the Madridcourt itself. The second one, assigned by its own decision, was to use the letters as an instrument not only for communication of news with other aristocrats, but also as a mean to fulfill the social functions that the nobility considered inherent to their own condition...
Description
Tesis de la Universidad Complutense de Madrid, Facultad de Geografía e Historia, Departamento de Historia Moderna e Historia Contemporánea, leída el 18-12-2018
Collections