Publication:
A policy for a new industrial revolution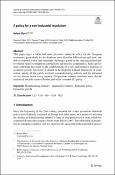 Authors
Advisors (or tutors)
Editors
Abstract
This paper urges a wider and more proactive industrial policy for the European economies, particularly for the Southern ones, than that followed up until now; one able to respond to new and important challenges posed by the ongoing technologic revolution based on ubiquitous connectivity and massive computation. Such a policy must contribute decisively to the establishment of a new and inclusive program of economic growth. Moreover, it should be developed in a broad framework of cooperation among all the agents involved in manufacturing industry and the advanced service sectors inside every country. Cooperation between countries must also be reinforced towards a more effective and wider common EU policy. © 2019, Associazione Amici di Economia e Politica Industriale.
Collections