Publication:
La ciudad islámica: sus referencias culturales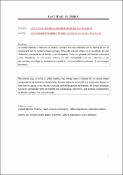 Authors
Advisors (or tutors)
Editors
Abstract
La ciudad islámica o llamada la-medina, siempre ha sido criticada por su forma de ser al compararla con la ciudad romana o griega. Pero este espacio urbano es el resultado de una civilización conocida en el tiempo y en el espacio. Tiene sus propias referencias culturales como filosóficas. Su estructura urbana ha sido compatible con las creencias y las perspectivas sociológicas, económicas y políticas de la sociedad musulmana. Es una imagen de marca. [ABSTRACT]The Islamic city, or what is called medina, has always been criticized for its nature when compared to the Roman or Greek cities. But this urban is the result of a civilization known in time and in space. It has its own cultural and philosophical references. Its urban structure has been compatible with the beliefs and sociological, economic, and political perspectives of Muslim society. It is a brand image.