Publication:
Maternal Genetic Structure Reveals an Incipient Differentiation in the Canary Islands Chiffchaff Phylloscopus canariensis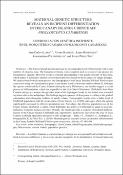 Advisors (or tutors)
Editors
Publisher
Sociedad Española de Ornitología (SEO/BirdLife)
Abstract
The Canary Islands are characterised by an outstanding level of biodiversity with a high number of endemic taxa. The Canarian avifauna is no exception and six extant avian species are recognised as endemic. However, we have a limited understanding of the genetic structure of these taxa, which makes it difficult to identify conservation priorities based on the existence of unique lineages. we analysed the diversification process and demography of the Canary Islands Chiffchaff Phylloscopus canariensis using two mitochondrial genes (cytochrome b and cytochrome oxidase subunit I). Although the species colonised the Canary Islands during the early Pleistocene, our results suggest a recent process of differentiation, which ran in parallel to the Last Glacial Maximum. Chiffchaffs from Gran Canaria emerge as a unique lineage since none of the haplotypes found on this island were recorded anywhere else in the archipelago. Our findings suggest a process of divergence according to the gradual colonisation and subsequent isolation of nearby islands. Demographic results show a stable trend of Chiffchaff populations until the colonisation of Gran Canaria (ca. 15,000 years ago), where the species significantly increased its effective population size. Nowadays, the effective population size of the Canary Islands Chiffchaff is stable, which highlights the ability of Chiffchaffs to adapt to local disturbances related to human activities. Overall, our results provide a scenario of incipient differentiation of the Canary Islands Chiffchaff and, importantly, underscore once more the role of Gran Canaria in driving speciation processes in this archipelago.
Las Islas Canarias se caracterizan por albergar una excepcional biodiversidad con multitud de taxones endémicos, y las aves no son una excepción. En la actualidad se reconocen hasta seisespecies de aves endémicas. Sin embargo, la información disponible sobre la estructura genética que mantienen estas especies dentro del archipiélago es muy limitada. Con el presente trabajo estudiamos el proceso de diferenciación y la evolución demográfica del mosquitero canario Phylloscopus canariensis, usando dos genes mitocondriales (citocromo b y citocromo oxidasa subunidad I). los resultados muestran que, a pesar que la especie habría colonizado el archipiélago durante el Pleistoceno temprano, el proceso de diferenciación no habría comenzado hasta los últimos 30.000 años. Solo la isla de gran Canaria, la cual habría sido colonizada durante el Pleistoceno tardío (ca. 15.000 años), mantiene haplotipos no compartidos con otra isla. El análisis de aislamiento por distancia sugiere un patrón de colonización y aislamiento posterior acorde a un modelo gradual, en donde las islas más cercanas son también genéticamente más similares. El análisis demográfico muestra una tendencia estable en el tamaño efectivo poblacional, hasta el momento en que la isla de gran Canaria es colonizada. En ese momento el tamaño efectivo se incrementó significativamente hasta el holoceno medio (ca. 5.000 años), donde alcanzó de nuevo un tamaño estable. Este resultado sugiere una gran plasticidad ecológica de esta especie, que ha sido capaz de superar múltiples perturbaciones como ha sido la pérdida de grandes masas forestales desde la llegada del ser humano a Canarias. En resumen, nuestros resultados muestran un proceso incipiente de diferenciación del mosquitero canario en el archipiélago, y resalta de nuevo el papel significativo de gran Canaria a la hora de promover linajes únicos.
Collections