Publication:
Estrategias para la mejora del diagnóstico serológico de la besnoitiosis bovina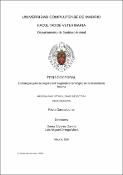 Files
Authors
Advisors (or tutors)
Editors
Publisher
Universidad Complutense de Madrid
Abstract
Besnoitia besnoiti es un protozoo apicomplejo formador de quistes responsable de la besnoitiosis bovina, una enfermedad crónica y debilitante que origina importantes pérdidas económicas en el ganado bovino a nivel mundial. En la actualidad, no existen tratamientos ni vacunas disponibles y, por tanto, las medidas de control se deben basar en la detección de animales infectados para reducir la prevalencia en zonas endémicas y evitar la entrada de la enfermedad en zonas libres a través de la compra de animales infectados. Los principales retos en la investigación sobre este parásito son, por un lado, la mejora de las técnicas serológicas para realizar un diagnóstico preciso y, por otro lado, el empleo de las nuevas pruebas diagnósticas desarrolladas para determinar el impacto de la enfermedad mediante estudios de prevalencia e incidencia. Dada la rápida diseminación de la besnoitiosis bovina en Europa, se han desarrollado numerosas técnicas de diagnóstico serológico. Sin embargo, éstas no han sido validadas en estudios comparativos y, por ello, los datos epidemiológicos descritos por los diferentes laboratorios, no son comparables. Además, no se ha establecido una prueba de referencia, lo cual es de vital importancia para el establecimiento de un protocolo de diagnóstico común entre los países afectados. Por otra parte, se ha puesto de manifiesto la necesidad de mejorar la sensibilidad (Se) de las pruebas para detectar a los animales infectados durante la fase aguda, así como los infectados durante la fase crónica que presentan niveles bajos de anticuerpos, los cuales en diversas ocasiones se encuentran por debajo del punto de corte de las técnicas diagnósticas. Además, también es necesario mejorar su especificidad (Esp), ya que las actuales pruebas ELISA, que se emplean de forma rutinaria en el diagnóstico de la infección, pueden dar lugar a un elevado número de resultados falsos-positivos que pueden repercutir de forma negativa en la eficacia de los planes de control...
Besnoitia besnoiti is a cyst forming intracellular parasite that causes bovine besnoitiosis, a chronic and debilitating disease in cattle responsible for severe economic losses. Unfortunately, there are no vaccines or treatments available and disease control relies solely on management measures coupled with diagnosis. The two main challenges in the field of B. besnoiti research nowadays are: the improvement of serological tools for an accurate diagnosis of bovine besnoitiosis, and the use of these techniques in prevalence and incidence studies to determine the impact of the disease in affected countries. Due to the rapid spread of bovine besnoitiosis in Europe, many serological assays have been developed to date. Unfortunately, these tests have never been validated in comparative studies. Thus, the epidemiological data reported in different laboratories are not comparable. In addition, a gold standard test for bovine besnoitiosis, which is mandatory for establishing common control procedures among affected countries, has never been accepted. Moreover, recent studies have shown that the serological assays developed so far may show low sensitivity (Se) for detecting B. besnoiti acutely infected as well as B. besnoiti chronically infected cattle showing low anti-B. besnoiti antibody levels. Furthermore, the existence of false-positive reactors has been also reported using ELISA and IFAT tests, which may be due to the presence of cross-reactive antigens between B. besnoiti and other Sarcocystidae parasites. In the present Doctoral Thesis, the techniques that are routinely employed for the diagnosis of bovine besnoitiosis in Europe were standardized and a common diagnostic procedure among affected countries was established for the first time (Objective 1). Based on the results obtained in this study, all ELISAs evaluated performed well and are useful tests for both diagnosis and epidemiological studies. However, Western blot performed better and was considered as the gold standard. Therefore, it may be recommended as a confirmatory assay under certain conditions, such as ambiguous results, cattle prior to entry to herds free of the disease and valuable animals prior to a selective culling...
Description
Tesis inédita de la Universidad Complutense de Madrid, Facultad de Veterinaria, Departamento de Sanidad Animal, leída el 20/01/2016. Tesis formato europeo (compendio de artículos)
Collections