Publication:
Accelerated immunosenescence, oxidation and inflammation lead to a higher biological age in COPD patients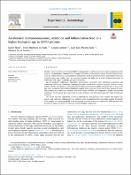 Advisors (or tutors)
Editors
Abstract
Chronic obstructive pulmonary disease (COPD) is characterised by inflammatory and oxidative alterations in the lung and extrapulmonary compartments, through involvement of the immune system. Several leukocyte functions are health markers and good predictors of longevity, and high pro-inflammatory and oxidative states are related to more aged profiles. Here, we aimed to investigate the aging rate in terms of immunosenescence in COPD men with respect to healthy age-matched controls. Several neutrophil (adherence, chemotaxis, phagocytosis, superoxide anion stimulated production) and lymphocyte (adherence, chemotaxis, lymphoproliferation, natural killer activity) functions, cytokine concentrations released in response to lipopolysaccharide (tumor necrosis factor-alpha, interleukin (IL)-6, IL-8, IL-10) and redox parameters (intracellular glutathione content, basal superoxide anion level) were assessed in circulating leukocytes of men with moderate and severe stages of COPD, and compared to healthy age-matched volunteers. The biological age or aging rate in each participant was determined using the values of leukocyte functions. The results indicated impairment of immune functions in COPD patients, both in innate and adaptive immunity, and higher pro-inflammatory and oxidative states in peripheral leukocytes than controls. In general, these changes were more remarkable at the severe stage of airway obstruction. Importantly, COPD patients were found to be aging at a faster rate than age-matched healthy counterparts.
La enfermedad pulmonar obstructiva crónica (EPOC) es una patología respiratoria grave que supone la tercera causa de muerte en el mundo, y que se caracteriza por la presencia de un elevado estrés oxidativo-inflamatorio tanto a nivel pulmonar como general del organismo, en el que se encuentra implicado el sistema inmunitario. Entre los factores de riesgo de esta enfermedad se incluye de forma importante el tabaquismo, pero también el envejecimiento. El proceso de envejecimiento se caracteriza por el establecimiento de un estrés oxidativo-inflamatorio crónico, en el que el que las células inmunitarias juegan un papel fundamental. Se ha comprobado que ciertas funciones de estas células inmunitarias son marcadores del estado de salud y, como ha propuesto nuestro grupo, resultan predictores de longevidad y permiten determinar la velocidad a la que está envejeciendo cada individuo, esto es, su edad biológica, lo que se consigue utilizando un modelo matemático, previamente publicado, que hemos denominado "The Immunity Clock". Por lo indicado, se quiso investigar si los pacientes con EPOC severo, pero también moderado, tienen un mayor estrés oxidativo-inflamatorio y una mayor velocidad de envejecimiento, evidenciada por una mayor edad biológica. Para ello, se procedió a la valoración de una serie de funciones de neutrófilos y de linfocitos, de las concentraciones de citoquinas pro-inflamatorias y anti-inflamatorias (para comprobar el estrés inflamatorio), así como de una serie de compuestos oxidantes y antioxidantes (para determinar el estrés oxidativo), en sangre periférica de hombres con estadio moderado y severo de EPOC, y se compararon con personas sanas de la misma edad (controles). Los resultados muestran un deterioro de las funciones inmunitarias, esto es, una inmunosenescencia acelerada, y un mayor estrés oxidativo e inflamatorio en los pacientes con EPOC, en comparación con los controles, cambios que fueron más notables en los pacientes que se encontraban en el estadio severo de la enfermedad. Además, los pacientes con EPOC tienen una edad biológica mayor que los individuos sanos de idéntica edad cronológica, con diferencias estadísticamente significativas ya en el estadio de EPOC moderado, y que fueron mayores en el estadio más grave de la misma.
Collections