Publication:
Prótesis pulmonar porcina soportada como tratamiento quirúrgico de la vía de salida disfuncionante del ventrículo derecho en cardiopatías congénitas. Comparativa con alternativas técnicas en el subgrupo de niños y adolescentes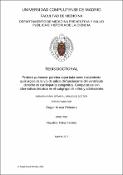 Files
Authors
Advisors (or tutors)
Editors
Publisher
Universidad Complutense de Madrid
Abstract
Las cardiopatías congénitas (CC) con obstrucción al tracto de salida del ventrículo derecho son tratadas por los cirujanos cardíacos desde los años 40 del siglo XX. Su sombría historia natural ha sido transformada por la cirugía cardíaca de las CC. Actualmente y en el caso del Fallot, la más frecuente, consigue que el 90% de la población quirúrgicamente reparada en la infancia alcance la vida adulta. Con todo, la historia quirúrgica de las CC corregidas en la infancia no está exenta de necesidad de reintervención debido a lesiones residuales, complicaciones o secuelas inherentes a la técnica reparadora inicial. En concreto, las que cursan con obstrucción a la salida del ventrículo derecho (Fallot, atresia pulmonar con comunicación interventricular, atresia/estenosis pulmonar con septo intacto), otra CC como el truncus arterioso y las técnicas quirúrgicas reparadoras de algunas otras CC que implican implantar un conducto entre el ventrículo derecho y la arteria pulmonar (cirugías de Ross y de Rastelli) padecerán insuficiencia, estenosis o doble lesión pulmonar como secuela obligatoria de la sección inicial de un anillo valvular pulmonar estenótico/atrésico, o del empleo de un conducto entre el ventrículo derecho y la arteria pulmonar que con el tiempo disfuncionará...
Congenital heart disease (CHD) with right ventricle outflow tract obstruction are paliated and repaired by cardiac surgeons since the 40s of last century. Their adverse natural history have been radically transformed by CHD cardiac surgery. Currently and in the case of Fallot, the most common, makes about 90% of the population surgically repaired in childhood reach adulthood. However, surgical history of CHD corrected in childhood is not without need for surgical or percutaneous reintervention due to residual lesions, complications or sequelae inherent in the initial repair technique. Specifically, that occur with right ventricular outflow tract obstruction (Fallot, pulmonary atresia with ventricular septal defect, atresia / pulmonary stenosis with intact septum), another CHD as truncus arteriosus and some other surgical techniques for CHD involving a conduit implantation between the right ventricle and the pulmonary artery (Ross` technique and Rastelli`s technique) will suffer failure stenosis, regurgitation or double pulmonary lesion as obligatory sequelae to the initial section of a stenotic or atretic pulmonary valve annulus, or the use of a conduit between the right ventricle and the pulmonary artery that eventually fail . In the mid-90s, the most often performed CHD surgery on sequels obstruction of the right ventricular outflow tract was the replacement of a dysfunctional conduit interposed between the right ventricle and the pulmonary artery at the time of surgical repair in chilhood...
Description
Tesis inédita de la Universidad Complutense de Madrid, Facultad de Medicina, Departamento de Medicina Preventiva y Salud Pública e Historia de la Ciencia, leída el 07/03/2016
Collections