Publication:
La literatura en torno a la primogénita de los Reyes Católicos: Isabel de Castilla y Aragón, princesa y reina de Portugal (1470-1498)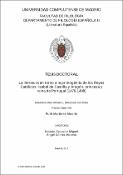 Files
Authors
Advisors (or tutors)
Editors
Publisher
Universidad Complutense de Madrid
Abstract
La actividad literaria de los principales ingenios cortesanos de fines del XV en Castilla no sólo se centró en la figura y mecenazgo de los monarcas, Isabel y Fernando, sino que también muchas de sus obras se realizaron para los hijos de los Reyes Católicos. En contraposición a la numerosa bibliografía que ha despertado entre la crítica la literatura que rodea al príncipe don Juan, la suscitada en torno a la primogénita, la infanta Isabel (1470-1498), no parece haber concitado tanto interés. La relevancia pública de dicha infanta, especialmente tras la muerte de su hermano, hizo de ella un modelo de mujer del Renacimiento, otorgándole una sobresaliente exposición histórica. Así, Isabel se convierte en pretexto literario, esto es, destinataria y mecenas de una literatura elaborada en su honor que trasciende todos los tópicos hasta llegar a convertirse en arquetipo literario ya entrados en el siglo XVI. Esta faceta, apenas explorada, vendría a complementar el panorama de análisis acerca del mecenazgo y entourage literario femenino en la época de los Reyes Católicos. De este modo, el objetivo principal de la tesis doctoral propuesta se centra en elaborar un completo panorama acerca de la educación, patrimonio librario y entorno literario de Isabel iunior...
The literary activity of the main writers in the late fifteenth Castilla not only focused on the figure and patronage of monarchs, Fernando and Isabel, but also many of their works were made for the children of the Catholic Monarchs. In contrast with the large criticism surrounding the literature about Prince Juan, the interest around the eldest daughter, the infanta Isabel (1470-1498), does not seem to have attracted much attention. The public relevance of said infanta, especially after the death of his brother, made her an outstanding historical exhibition of the model Renaissance woman. As a result, Isabel became literary pretext, that is, patron of literature produced in her honor and transcendent of all topics to become a literary archetype in the sixteenth century. This dimension, barely explored, would complement the overview of analysis about patronage and female literary entourage at the time of the Catholic Monarchs. Thus, the main objective of the proposed doctoral thesis is to develop a complete understanding Isabel iunior's education, cultural heritage, and literary setting...
Description
Tesis inédita de la Universidad Complutense de Madrid, Facultad de Filología, Departamento de Filología Española, leída el 04/07/2016
Collections