Publication:
Protein and lipid fingerprinting of native-like membrane complexes by combining thin layer chromatography and protein electrophoresis: the example of lung surfactant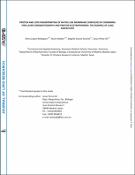 Advisors (or tutors)
Editors
Publisher
American Society for Biochemistry and Molecular Biology
Abstract
Traditionally, thin layer chromatography (TLC) has been used for the analysis of lipids isolated from membrane complexes. Here, we describe a method based on the combination of TLC and SDS-polyacrylamide gel electrophoresis (SDS-PAGE) for the qualitative analysis of the protein/lipid profile of membrane complexes such as those of lung surfactant. For this purpose, native lung surfactant was applied onto a silica TLC plate in the form of an aqueous suspension, preserving not only hydrophilic proteins associated to lipids, but also native protein-lipid interactions. Using native membrane complexes in a TLC allows the differential migration of lipids and their separation from the protein components. As a result, (partly) delipidated protein-enriched bands can be visualized and analysed by SDS-PAGE to identify proteins originally associated with lipids. Interestingly, the hydrophobic surfactant protein SP-C, which interact tightly with lipids in native membrane complexes, migrate through the TLC plate configuring specific bands that differ from those corresponding to lipids or proteins. This method therefore allows the detection and analysis of strong native-like protein-lipid interactions.
Este es un trabajo metodológico desarrollado en el grupo BIOMIL (Biofísica de Membranas e Interfases Lípido-Proteicas), del Dpto. de Bioquímica y Biología Molecular, que puede abrir análisis muy interesantes para muchos sistemas de membranas celulares. Elena López, una de las principales firmantes del trabajo, descubrió que la técnica de cromatografía en capa fina, típicamente usada para el análisis de la composición lipídica de muestras biológicas, podía utilizarse para deslipidizar muestras de membranas celulares enteras (o complejos nativos de surfactante pulmonar, que es lo que analizamos nosotros inicialmente). Pero lo más interesante es que tras la deslipidización se preservan complejos lípido-proteína nativos en los que se mantienen interacciones particularmente fuertes y específicas, lo que puede permitir revelar la asociación de las proteínas con ciertas especies lipídicas, por ejemplo. Esto supone la posibilidad de identificar complejos lípido-proteína que no pueden revelarse de otra manera.
Collections