Publication:
Los encuadres mediáticos durante la campaña electoral presidencial de Colombia 2014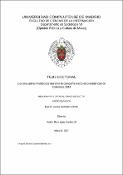 Files
Authors
Advisors (or tutors)
Editors
Publisher
Universidad Complutense de Madrid
Abstract
En los Estados democráticos contemporáneos los medios de comunicación tienen un papel sustancial en tanto que, como portavoces de la opinión pública y mediadores del discurso político, buscan establecer la agenda ciudadana y presentar interpretaciones de los asuntos públicos que influyen en la forma como los individuos entienden la realidad. En este trabajo estudiamos la propuesta temática (agenda setting) de la prensa colombiana durante la campaña presidencial de 2014, así como los encuadres que ha construido la prensa de referencia sobre el proceso de paz entre el gobierno de Juan Manuel Santos y las Fuerzas Armadas Revolucionarias de Colombia – Ejercito del Pueblo (FARC- EP). Partimos de la hipótesis de que la composición de la agenda mediática y los frames promovidos han estado alineados con la propuesta de campaña de Juan Manuel Santos, al impulsar la idoneidad de dar continuidad a las negociaciones de paz. Para comprobarlo, hemos identificado y reconstruido los encuadres que sobre el proceso de paz propusieron los periódicos El Tiempo y El Espectador. Este análisis ha permitido confirmar la hipótesis de investigación y ha aportado evidencia empírica a la premisa de que, en un sistema mediático polarizado como el colombiano, los medios siguen siendo un actor político que atiende a intereses partidistas.
In contemporary democratic states the media has a substantial role, in the same way as spokespersons of public opinion and mediators of political discourse, seeking to establish the civic agenda and present interpretations of public affairs that affect the way individuals understand reality. This dissertation studies the thematic proposal (agenda setting) of the Colombian press during the 2014 presidential campaign as well as the framing that the press has advocated on the peace process between the government of Juan Manuel Santos and the Revolutionary Armed Forces of Colombia - People's Army (FARC-EP). We start with the hypothesis that the compositions of the media agenda and frames promoted have been aligned with the campaign proposals of Juan Manuel Santos to boost the suitability of continuing the peace negotiations. In order to demonstrate it we have identified and reconstructed the frames proposed by the newspapers El Tiempo and El Espectador about the peace process. This analysis has enabled us to confirm the research hypothesis and provided empirical evidence on the premise that in a polarized media system like Colombia, the media remains a political actor serving partisan interests.
Description
Tesis inédita de la Universidad Complutense de Madrid, Facultad de Ciencias de la Información, Departamento de Sociología VI (Opinión Pública y Cultura de Masas), leída el 03-02-2016
Collections