Publication:
La Novela de Bolsillo (1914-1916). Una colección literaria «de transición»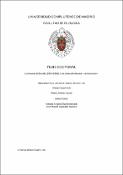 Authors
Advisors (or tutors)
Editors
Publisher
Universidad Complutense de Madrid
Abstract
Esta tesis se centra en una de las colecciones de novela breve de principios del siglo XX, La Novela de Bolsillo, que contribuyó al triunfo de este fenómeno editorial e incentivó el gusto del público español del primer tercio del siglo XX por la lectura. La Novela de Bolsillo, colección publicada entre los años 1914-1916, publicó cien números semanales, obra de setenta y nueve escritores, en cuyas colaboraciones se distinguen distintas tendencias estilísticas. Entre dichos autores se registran los nombres de algunos ya famosos en la época, como es el caso de Joaquín Dicenta, y otros que comenzaban su carrera literaria, como Ramón Gómez de la Serna, Wenceslao Fernández Flórez, Antonio de Hoyos y Vinent o Álvaro Retana. Uno de los valores más destacados de La Novela de Bolsillo es el nuevo modelo de edición que presenta para estas colecciones literarias, este nuevo formato reduce el tamaño de los ejemplares a 11,5×15,5 centímetros, dando lugar al formato de bolsillo, que en 1914 supuso una revolución, ya que permitió cambiar los hábitos de lectura, al poder llevar la literatura a cualquier lugar. En este sentido, el creador de la colección, Francisco de Torres, afirmaba que La Novela de Bolsillo, debido a su nuevo formato, "será la novela del ferrocarril, la novela del paseo, la novela de la misma calle"...
This thesis focuses on one of the collections of short novels of the first years of the twentieth century, La Novela de Bolsillo (The Pocket Novel), which contributed to this editorial phenomenon and stimulated the taste of the first third of the twentieth century Spanish public for reading, for the short novel and for literature in general. The Pocket Novel, similar to the precedent collections that came before it, hired authors from a wide variety of thematic and stylistic tendencies. Some of these authors were already famous in the epoch, such as Joaquín Dicenta, while others were just starting their literary career and, over the years, would occupy a prominent place in the Spanish literature, which was the case of Ramón Gómez de la Serna, Wenceslao Fernández Flórez, Antonio de Hoyos y Vicent or Álvaro Retana. Precisely, the appearance in this collection of these writers, who gave shape to this period in the Spanish literature known as the Silver Age, determined my desire to know their contribution to this project, as well as to investigate some data of other currently less known authors...
Description
Tesis inédita de la Universidad Complutense de Madrid, Facultad de Filología, leída el 01/02/2021
Collections