Publication:
En vísperas del acceso a la Unión Económica y Monetaria Europea: un repaso de experiencias y perspectivas inmediatas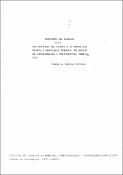 Files
Authors
Advisors (or tutors)
Editors
Publisher
Facultad de Ciencias Económicas y Empresariales. Decanato
Abstract
El Mercado Común, desde ahora MC, queda formalmente establecido en 1959 con la firma del Tratado de Roma por los seis países inicialmente signatarios, a los que se unieron a lo largo de los años otros seis, totalizando los doce que componen la denominada actualmente Comunidad Europea. El Mercado Común tenía, y tiene, unos objetivos económicos particularmente claros y definidos, la eliminación de toda clase de barreras, empezando por las arancelarias, al comercio intracomunitario de mercancías, objetivo que luego se amplio a la liberalización de los movimientos de recursos y a la libertad de establecimiento, con el fin de alcanzar al final un mercado único intracomunitario de amplísima cobertura. Sin embargo, para nadie ha sido un secreto, y todos los países signatarios han sido siempre conscientes de ello, que el Mercado Común había nacido y ha ido desplegándose en función de unas metas políticas igualmente claras y definidas.
Citation
BANQUE DES REGLEMENTS INTERNATIONAUX, 62 eme Rapport Annuel, Basilea, Juin 1992. BARRELL (ed), Economic convergence and monetary union in Europe, Londres 1992. BRYANT & PORTES (eds), Global macroeconomics: Policy, conflict and cooperation, New York,1987. DELORS COMMITTEE, Report on economic and monetary union in the European Community, Luxemburg, 1989. EMERSON, GROS, ITALlANER, PISANI, REICHENBACH, One market, one money, Oxford, 1992. FITOUSSI y otros, Competitive disinflation, Oxford. 1993. FRATIANI & PEETERS (eds), One money for Europe. London. 1978. GIAVAZZI (ed.),The european monetary system, Cambridge.1988. GOODHART, Money, information and uncerlainty, London, 1975. GRAUWE & PAPADEMOS (eds), The European monetary system in the 1990s,London, 1990. GRAUWE, The economics of monetary integration, Oxford, 1992. GROS & THYGESEN (eds), European monetary integration. From the European Monetary System towards Monetary Union, London, 1992. LERENA, Política monetaria, estabilidad y convergencia bajo tipos de cambio fijos. El caso español, en Varela (ed), Organización económica internacional, 1991. ROJO DUQUE, El sistema monetario europeo y el futuro de la cooperacion en la CEE, Madrid, 1989. SWOBODA (ed), L'union monetaire en Europe, Ginebra 1971. TRATADO DE LA UNION EUROPEA, Febrero 1992. YPERSELE, Le systeme monetaire europeen, Bruxelles, 1988.