Publication:
Traducciones directas al español de poesías y poemas de Serguéi Esenin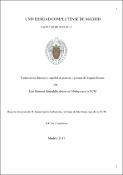 Authors
Advisors (or tutors)
Editors
Abstract
El poeta ruso Alexandrovich Esenin, preparó en 1925 la recopilación de una gran parte de sus poesias y poemas, para su publicación en tres tomos (I, II y III). La muerte del poeta en diciembre de 1925 imposibilitó su inmediata publicación que tuvo lugar en 1926 por las Ediciones del Estado. Un nuevo tomo IV complementario fue publicado en 1927 conteniendo prosa y otras poesías no incluidas por Esenin en los tres primeros tomos. En este trabajo se pretende completar la traducción directa al español de las poesías y de los poemas contenidas en los citados cuatro tomos. Las numerosas poesías de Esenin con contenidos políticos y religiosos requieren traducciones literales que no desfiguren las ideas que el poeta quiere expresar. También se ha elegido la traducción literal frente a la poética para el resto poesías, de contenido amoroso, familiar o aldeano, en las que predomina la personificación de los astros y de fenómenos y elementos naturales, de componentes de la naturaleza y de la aldea. Estas personificaciones aparecen en diálogos con el poeta y entre estos mismos componentes, y que por su contenido imaginario hacen recomendable una traducción literal.
Russian poet Serguey Esenin prepared in 1925 a collection of a great part of his poems, for their publication in three volumes (I,II and III). Poet´s death in december 1925, made imposible her immediate publication, that took place in 1926 by State Editions. A new IV complementary volume was publicated in 1927, containing prose and other poems not included by Esenin in the three original volumes. The intention of this work is to complete the direct translation to spanish of the poems included in these four volumes. A great number of the poems with political and religious contains, require literal translation in order not to disfigure the ideas that the poet tries to express. Literal translation has also been applicated to the poetry of the rest of poems. with loving, familiar or villager content, in which predominates the personification of stars, natural elements, nature components, and villages.These personifications appear in dialogues with the poet, as well as in dialogues between themselves, and their imaginary content makes advisable a literal translation.
Description
Trabajo realizado bajo la dirección de D. Jesús García Gabaldón, profesor de literatura rusa de la UCM.