Publication:
Reorientación curricular de la Licenciatura en Educación Artística para profesores de nivel básico de la provincia de Chiapas-México: proyecto colaborativo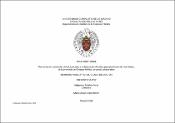 Files
Authors
Advisors (or tutors)
Editors
Publisher
Universidad Complutense de Madrid
Abstract
La presente tesis es el resultado de años de colaborar en el campo de la educación artística en el nivel superior, especialmente en la formación de maestros en este campo formativo. El interés de desarrollar este proyecto, surge por la necesidad de proponer un programa de formación profesional acorde a las necesidades actuales en el área de la educación artística en el nivel básico en México, durante años han surgido propuestas de profesionalización que no han logrado consolidarse, tomando en cuenta la necesidad de generar una propuesta con estas características, que tiene como referencia la reforma educativa puesta en marcha en el año 2011, especialmente en este campo de conocimiento, el cual plantea promover la apreciación, expresión y contextualización de disciplinas artísticas como la danza, el teatro, la música y las artes visuales en la educación básica resaltando la importancia de las expresiones artísticas locales. Cabe señalar que se exponen algunas de las propuestas que anteceden el presente proyecto, con el objetivo de conocer y analizar dichas propuestas, aunque este programa se desarrolla en una provincia del sur del país que se caracteriza por su diversidad multicultural y multilingüe, nos referimos al estado de Chiapas que apareciera en la escena mundial en 1994, por un movimiento indígena que demandaba el reconocimiento de las culturas originarias de esta zona de México, así como, de los distintos grupos originarios que subsisten en el país, dicha demanda se sintetiza en la idea símbolo de este movimiento; "Un mundo donde quepan muchos mundos".(EZLN:1994). Esta investigación se divide en tres momentos, el primero se refiere al análisis del contexto en el campo de la educación de la formación de profesorado que se relaciona con dicha profesionalización en educación artística, en este acercamiento se identifica el objeto de estudio para el desarrollo de la investigación, en una segunda etapa se hace referencia al marco teórico y metodológico del proyecto, en el cual se hace énfasis en la metodología utilizada, ya que, por la naturaleza del objeto de estudio fue necesario establecer la investigación-acción educativa como método para el desarrollo de la misma al ser un proyecto en operación. En la tercera etapa se analiza el último programa de formación de profesorado en educación artística y se desarrolla la propuesta de reorientación curricular de la licenciatura en este campo de conocimiento, con la colaboración de especialistas en las disciplinas que contempla el plan de estudios, así como de directivos y estudiantes matriculados. Cabe señalar que se presentan resultados parciales, debido a que, es un programa de estudios que se encuentra en operación que tiene planeado concluir en el 2017, por lo tanto se asume el compromiso de acompañar a los estudiantes matriculados actualmente en su proceso de formación hasta la conclusión de dichos estudios de licenciatura.
The current dissertation is the result of years of working in the field of artistic education at the university level, especially in training teachers in the training field. The interest in developing this project comes up from the need of proposing a program in professional training according to the current needs in the area of artistic education at the basic level in Mexico. Proposals for professionalization have come up for years, which have not succeeded in getting consolidated. Taking into consideration the necessity of generating a proposal with these characteristics, which has the educative reform passed in 2011 as a reference, especially in this field of knowledge that propounds to promote the appreciation, expression and contextualization of artistic disciplines such as dance, theater, music and visual arts in basic education, pointing out the importance of having the local artistic expressions as a reference. It is also important to point out that some of the proposals which predate the current project are exposed, with the objective of knowing and analyzing the previous programs, with the purpose of developing this proposal in a province of the south of the country which is characterized by its multicultural and multilingual diversity. We speak of the state of Chiapas which appeared on the world stage in 1994 due to an indigenous movement which demanded the acknowledgement of the native cultures in this zone of Mexico, as well as the different native groups which persist in the country. Such as demand is synthetized in the idea referring to this movement, "A world in which many worlds can fit in" (EZLN, 1994) This research is divided into three different moments. The first one refers to the analysis of the context in the field of education of teacher training which is related to such professionalization in artistic education. In this close-up we can identify the object of study for the development of the research. On a second stage we make reference to the theoretical and methodological framework of the project, in which we make emphasis on the methodology used, given the fact that because of the nature of the study object it was necessary to establish the educative research-action as a method for the development of it provided that it is a project in operation. On the third stage we analyze the last program of teacher training in artistic education and the proposal of curricular reorientation in the major is developed in this field of knowledge with the help of specialists in disciplines contemplated by the plan of study as well as directors and students with a matricula. It is important to point out that some partial results are presented, since it is a program of study in operation which is planned to finish in 2017. Therefore, the commitment of accompanying the student is assumed currently in the process of their training until the achievement of a bachelor's degree.
Description
Tesis inédita de la Universidad Complutense de Madrid, Facultad de Bellas Artes, Departamento de Didáctica de la Expresión Plástica, leída el 2-02-2016
Collections