Publication:
CfDNA Measurement as a Diagnostic Tool for the Detection of Brain Somatic Mutations in Refractory Epilepsy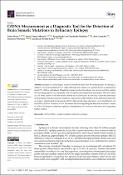 Advisors (or tutors)
Editors
Abstract
Epilepsy is a neurological disorder that affects more than 50 million people. Its etiology is unknown in approximately 60% of cases, although the existence of a genetic factor is estimated in about 75% of these individuals. Hundreds of genes involved in epilepsy are known, and their number is increasing progressively, especially with next-generation sequencing techniques. However, there are still many cases in which the results of these molecular studies do not fully explain the phenotype of the patients. Somatic mutations specific to brain tissue could contribute to the phenotypic spectrum of epilepsy. Undetectable in the genomic DNA of blood cells, these alterations can be identified in cell-free DNA (cfDNA). We aim to review the current literature regarding the detection of somatic variants in cfDNA to diagnose refractory epilepsy, highlighting novel research directions and suggesting further studies.
Collections