Publication:
L(Infinity)(L(1)) And L(1)(L(Infinity)) Are Not Isomorphic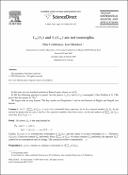 Files
Authors
Advisors (or tutors)
Editors
Abstract
The Statement Of The Title Is Proved.
Citation
J. Hagler, Ch. Stegall, Banach spaces whose duals contain complemented subspaces isomorphic to C([0, 1]) ∗, J. Funct. Anal. 13 (1973) 233– 251. I. Halperin, H. Nakano, Generalized p spaces and the Schur property, J. Math. Soc. Japan 5 (1953) 50–58. J. Lindenstrauss, L. Tzafriri, Classical Banach Spaces I, Ergeb. Math. Grenzgeb., vol. 92, Springer-Verlag, 1977. J. Motos, M.J. Planells, C.F. Talavera, On some iterated weighted spaces, J. Math. Anal. Appl. 338 (2008) 162–174.
Collections