Publication:
Patrimonio cultural gastronómico, turismo y signos distintivos de calidad: innovaciones para el desarrollo económico territorial en Actopan, Hidalgo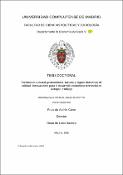 Files
Authors
Advisors (or tutors)
Editors
Publisher
Universidad Complutense de Madrid
Abstract
Es hasta finales de los ochenta, sobre todo durante los noventa —en un contexto de globalización acelerada—, cuando los enfoques alternativos del desarrollo alcanzaron notoriedad, en especial la emergencia del desarrollo humano y sostenible, así como un reencuentro con la perspectiva territorial/local del desarrollo. Este enfoque espacial posibilitó que cuestiones sociales, particularmente la lucha contra la pobreza, ocuparan un lugar prioritario en las estrategias de desarrollo. De esta manera, se evitó que lo anterior quedara reducido al "efecto cascada" del crecimiento económico. Todo ello abrió las puertas al redimensionamiento de la economía del desarrollo en el centro de la economía política. En este punto, factores externos e internos, económicos y no económicos, estructurales y coyunturales, históricos y geográficos, humanos e inmateriales, otorgaron a la economía del desarrollo la apertura para referirse a una interacción de distintas disciplinas que intervienen en el objeto de estudio. Desde una perspectiva distinta, se comienza a abrir el debate sobre el entorno territorial y las economías externas generadas por las interdependencias locales. Allí existen y se reproducen un cúmulo de conocimientos humanos que se combinan con diferentes factores y características tanto materiales como inmateriales. Entre los diferentes planteamientos que han ido surgiendo más o menos durante el período que va de 1985 al 2005, ha tenido gran importancia la revitalización del enfoque que considera al desarrollo como un proceso territorial y no funcional. De hecho, las políticas de desarrollo han resultado ser más eficaces cuando las realizan los actores locales. Desde esa línea de ideas, el territorio es concebido a partir de sus aspectos físicos y naturales. Por añadidura, el concepto es construido con base en aspectos humanos, culturales, en donde se desarrollan un conjunto de relaciones sociales que se corresponden con la producción, la distribución, el consumo, la organización político-social, tradiciones e historia...
Is until the late 80s, especially during the 90s —in an accelerated globalization context—, when the alternative development approaches achieved notoriety, specially, the emergence of sustainable human development, as well as a new encounter with the local/territorial development approach. This spatial approach allowed social issues (fight against poverty particularly) to occupy a priority place among the development strategies. This way, it was avoided being reduced to the "cascade effect" of the economic growth. All that opened the doors to a re-sizing of the development economy at the center of political economy. At this point, external and internal factors, economic and non-economic, structural and temporary situation, historical and geographical, human and non-material factors granted to the development economy the openness to refer to an interaction of several disciplines which intervene in the object of study. From a different perspective, the debate about the territorial environment and the external economies generated by the local interdependence begins. There, exists and is reproduced an accumulation of human knowledge that is combined with different factors as well as with material and non-material characteristics. Among different approaches that have emerged between 1985 and 2005, the revitalization of the approach which considers development as a territorial and non-functional process has been of a great importance. As a matter of fact, the development policies have turned to be more efficient when made by local actors. From that line of ideas, the territory is conceived regarding its physical and natural aspects. The concept is built over human and cultural aspects, where social relationships, which correspond with production, distribution, consumption, social-politic organization, tradition and history, are developed...
Description
Tesis inédita de la Universidad Complutense de Madrid, Facultad de Ciencias Políticas y Sociología, Departamento de Economía Aplicada V, leída el 11-12-2015
Collections