Publication:
El Códice Calixtino, todo un mundo concentrado en un libro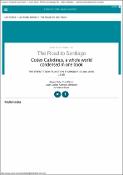 Advisors (or tutors)
Editors
Abstract
El profesor titular del Departamento de Musicología de la Universidad Complutense de Madrid, Arturo Tello Ruiz-Pérez, expone en esta conferencia los contenidos del Códice Calixtino, copia del Liber Sancti Iacobi custodiada en la Catedral de Santiago y llamado así en referencia al papa Calixto II. El conferenciante resalta su importancia musical y analiza algunos de los cantos, figuras e innovaciones más destacados de esta "obra cumbre de la música universal". Con el acompañamiento de las voces masculinas del coro Schola Antiqua, dirigido por Juan Carlos Asensio, se ilustran algunos de los ejemplos más singulares que componen este códice medieval, símbolo de la importancia de Compostela como centro de peregrinación de la cristiandad.
In this conference, Arturo Tello Ruiz-Pérez, professor of the Department of Musicology of the Complutense University of Madrid, exposes the contents of the Codex Calixtinus, a copy of the Liber Sancti Iacobi kept in the Cathedral of Santiago and named after Pope Calixtus II. The lecturer highlights its musical importance and analyses some of the most outstanding songs, figures and innovations of this "masterpiece of universal music". Accompanied by the male voices of the Schola Antiqua choir, conducted by Juan Carlos Asensio, some of the most singular examples that make up this medieval codex are illustrated, symbolising the importance of Compostela as a centre of pilgrimage for Christianity.
Description
Conferencia-concierto, junto al grupo Schola Antiqua, dirigido por Juan Carlos Asensio http://www.scholaantiqua.com/index.html?lang=es
Citation
Asensio, J. C. (ed.): El Codex Calixtinus en la Europa del siglo XII. Música, Arte, Codicología y Liturgia, Instituto Nacional de las Artes Escénicas y de la Música, Ministerio de Cultura: León, 2011. Díaz y Díaz, M., El Códice Calixtino de la catedral de Santiago de Compostela: estudio codicológico y de contenido, Centro de Estudios Jacobeos: Santiago de Compostela, 1988. Karp, Th., The Polyphony of Saint Martial and Santiago de Compostela, Clarendon Press: Oxford, 2 vols., 1992. López-Calo, J. y Villanueva, C. (eds.), El Códice Calixtino y la música de su tiempo (Actas del Simposium celebrado en Santiago de Compostela del 20-23 de septiembre de 1999), Fundación Pedro Barrié de la Maza: La Coruña, 2001. Wagner, P., Die Gesange der Jakobusliturgie zu Santiago de Compostela aus dem sog. Codex Calixtinus, Kommissionsverlag, Universitæts-Buchhandlung: Friburgo, 1931. Whitehill, W. M. y Prado, G. (eds.), Liber Sancti Jacobi. Codex Calixtinus. 3 vols, Conselleria de Cultura: Santiago de Compostela, 1944.