Publication:
De Bodhidharma a Daruma: la popularización de un mito religioso y monástico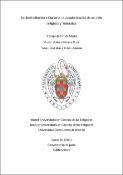 Authors
Advisors (or tutors)
Editors
Abstract
El semi-legendario monje Bodhidharma, patriarca del budismo zen, conocido en Japón como Daruma (nombre que se le da a su versión mítica en este Trabajo de Fin de Máster), es el personaje con el cual se intenta demostrar la siguiente hipótesis: cuando a un personaje religioso entroncado en un personaje histórico o plausiblemente histórico se le atribuyen leyendas y se populariza, pasando a formar parte de la religión común, se populariza la versión mítico-legendaria del personaje y su biografía queda ignorada. Para probar esto, se examinan liturgias y rituales y se evalúa iconografía generada en China y en Japón durante quince siglos. Se han elegido dos objetos principales para ilustrar esta popularización: la evolución de los retratos de Bodhidharma en la interacción maestro-discípulo y el juguete de papel maché, conocido como Okiagari-koboshi que encarna la iconografía de Daruma. Este estudio, que se sitúa bajo el paraguas de las Ciencias de las Religiones y se contextualiza en los Estudios de Asia Oriental, muestra que el mito prevalece, dejando de lado los detalles sobre la biografía y la relevancia histórica del personaje, ambos enraizados (pero sobrepasados) en la religiosidad y espiritualidad zen.
The semi-legendary monk Bodhidharma, Zen Buddhism's patriarch founder and known in China as Damo, in Japan as Daruma (his mythical wording in this Master Dissertation), is the character with which it is intended to test the following hypothesis: if a religious character becomes enthroned as a credible historical celebrity, and accumulates legends and attributes, and is popularized, becoming a part of the common religion, then the mythical version of this individuality becomes emblematic, and the biography is ignored. To prove this, liturgies and rituals are surveyed and the iconography generated in China and in Japan over fifteen centuries is appraised. Two objects have been chosen to illustrate this popularization: the evolution of Bodhidharma portraits in the confidential interaction between master-disciple and the papier-mâché toy, known as Okiagari-koboshi that embodies Daruma's iconography. This study, under the umbrella of Sciences of Religions and networked to Studies of East Asia, shows that the myth prevails, setting aside details about the biography and the historical relevance, both rooted (but overlooked) in Zen religiosity and spirituality.