Publication:
Bocados de oro y la vida ejemplar de Alejandro Magno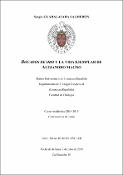 Authors
Advisors (or tutors)
Editors
Abstract
Alejandro Magno fue durante la Edad media un modelo a seguir por reyes y príncipes, debido a su astucia, inteligencia, capacidad de mando y valentía. Multitud de obras fueron dedicadas al estudio de su vida, hazañas y leyenda. En este trabajo se analiza, en concreto, su inserción en el contexto político y literario de la Castilla del siglo XIII, en especial el retrato que de él se ofrece en Bocados de oro, una obra que disfrutó de una extraordinaria difusión durante el periodo medieval y que, sin embargo, ha permanecido prácticamente en el olvido hasta nuestros días.
Alexander the Great was during the Middle Ages a model for kings and princes, because of his cunning, intelligence, leadership ability and courage. Many works were devoted to the study of his life, deeds and legend. This paper discusses its particular integration into the political and literary context of Castile during the 13th century, especially the portrait that it is offered in Bocados de oro, a work that was extraordinarily widespread during the medieval period. However, it has remained almost forgotten until today.