Publication:
Análisis de la comunicación estado-empresa en la difusión y promoción de incentivos fiscales : caso Ecuador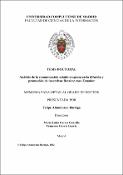 Authors
Advisors (or tutors)
Editors
Publisher
Universidad Complutense de Madrid
Abstract
Los sectores económicos en Ecuador cuentan con abundantes incentivos y estímulos fiscales orientados a la captación de nueva inversión productiva, dichos incentivos se instituyen en varias normas que se han expedido a partir de la publicación del Código Orgánico de la Producción, Comercio e Inversiones (COPCI), extenso marco normativo publicado en el año 2010, el cual procura impulsar el crecimiento de la economía ecuatoriana a través de la producción con mayor valor agregado, que establezcan las condiciones para incrementar su rendimiento, promoviendo así la transformación del enfoque productivo del país. No obstante, en la generalidad, a pesar de que el Ecuador dispone de potentes incentivos para inversionistas nacionales y extranjeros, y que además cuenta con los instrumentos necesarios para su aplicación; por el momento se evidencia un limitado uso de los mismos, generando así un profundo interés acerca de la importancia que tiene la relación económica estado-empresa sobre en la creación, difusión, promoción y uso de estos beneficios por parte de las empresas nacionales y extranjeras en el Ecuador...
Ecuador has the potential to attract national and foreign investment compared to Latin American countries. Attractive tax incentives are instituted within the Organic Code of Production, Trade and Investments (COPCI). This regulatory framework published in 2010 seeks to promote the production of higher added value which establishes the conditions to increase productivity and promote the transformation of the production matrix. However, despite the fact that Ecuador has powerful incentives for national and foreign investors and the necessary instruments for their application, there is little use of them, thus generating a deep interest about the importance of State-Company communication on the dissemination, promotion and application of these benefits by national and foreign companies in Ecuador...
Description
Tesis inédita de la Universidad Complutense de Madrid, Facultad de Ciencias de la Información, leída el 20-10-2022
Collections