Publication:
The discourse construction of the image of Russia in the British and American press in the year 2005. A contrastive study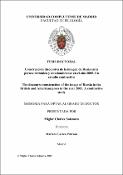 Files
Authors
Advisors (or tutors)
Editors
Publisher
Universidad Complutense de Madrid
Abstract
Linguistic expression and communication play a crucial role when it comes to understanding an image of a specific country, as well as the construction and interpretation of such image. The main goal in the present thesis is to carry out a contrastive study through the analysis of Russia's image construction as a threat in the newspaper articles from the British press The Guardian and the American press The New York Times. This study focuses on the contrastive written discourse for the analysis of the texts which includes Russia, Great Britain and the United States as the main actors in the frame of International Relations in the year 2005.For the development of the aforementioned contrastive study, a general theoretical approach will be introduced to the concept of image applied to Russia, in order to understand how Russia's complex historical evolution as a nation has configured the Western representations of Russia and its image from a historical, socio-political and ideological points of view. Additionally, there will be a more specific section focused on the historical configuration of the British and American perception of the image of Russia. This will help us understand how the views of these countries towards Russia are reflected in the British and American press articles. All this is closely related to the stereotypes, which constitute a direct consequence of the innumerable differences that Russia has been manifesting throughout its historical evolution with respect to the Western world. As will be seen, this fact highlights even more Russia's anti-Western character. The next step will be to describe how such representations are reflected in the texts from the British and American digital press from a linguistic perspective...
La expresión lingüística y la comunicación desempeñan un papel crucial a la hora de comprender la imagen de un país específico, así como la construcción e interpretación de la misma. El objetivo principal de la presente tesis es realizar un estudio contrastivo a través del análisis de la construcción de la imagen de Rusia como amenaza en los artículos de la prensa británica The Guardian y de la prensa estadounidense The New York Times. Este estudio se centra en el discurso escrito contrastivo para el análisis delos textos, el cual incluye a Rusia, Gran Bretaña y Estados Unidos como los principales actores en el marco de las Relaciones Internacionales en el año 2005.Para el desarrollo del mencionado estudio contrastivo, se introducirá un enfoque teórico general del concepto de imagen aplicado a Rusia, con el fin de comprender cómo la compleja evolución histórica de Rusia como nación ha configurado las representaciones del Occidente sobre Rusia y su imagen desde un punto de vista histórico, sociopolítico e ideológico. Adicionalmente, habrá una sección más específica centrada en la configuración histórica de la percepción británica y estadounidense de la imagen de Rusia. Esto nos ayudará a comprender en qué forma quedan reflejadas las percepciones de estos países sobre Rusia en los artículos de prensa británica y estadounidense. Todo ello está estrechamente relacionado con los estereotipos, que constituyen una consecuencia directa de las innumerables diferencias que Rusia ha venido manifestando a lo largo de su evolución histórica con respecto al mundo occidental. Como se verá, este hecho resalta aún más el carácter antioccidental de Rusia. El siguiente paso será describir cómo estas representaciones se reflejan en los textos de la prensa digital británica y estadounidense desde una perspectiva lingüística...
Description
Tesis inédita de la Universidad Complutense de Madrid, Facultad de Filología, leída el 25-02-2022
Collections