Publication:
Cirujano de Hierro. La construcción carismática del general Primo de Rivera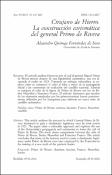 Advisors (or tutors)
Editors
Publisher
Asociación de Historia Contemporánea
Abstract
El artículo analiza el proceso por el cual el general Miguel Primo de Rivera intentó dotarse de una legitimidad carismática, una vez alcanzado el poder en 1923. Tomando un enfoque culturalista, se explora cómo se construyó el culto al líder a través de la propaganda oficial y las ceremonias de exaltación del caudillo nacional. Además se compara el culto de la figura de Primo de Rivera con los de Benito Mussolini y Francisco Franco. El artículo demuestra que muchos de los elementos empleados por los primorriveristas fueron posteriormente utilizados por los franquistas para elaborar un nuevo mito de caudillo carismático.
This article analyses the process by which General Primo de Rivera attempted to gain a charismatic legitimacy once he took power in 1923. The paper takes a culturalist approach and explores the use of the dictatorship's propaganda and ceremonies to foster the cult of Primo de Rivera. The study draws comparisons between the cults of Primo de Rivera, Benito Mussolini and Francisco Franco. The article concludes that many of the features used to create a charismatic legitimacy under Primo de Rivera were later employed by the Francoists in the making of a new myth of the patriotic leader.
Collections