Publication:
Atención farmacéutica a pacientes onco-hematológicos incluidos en ensayos clínicos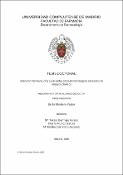 Files
Authors
Advisors (or tutors)
Editors
Publisher
Universidad Complutense de Madrid
Abstract
La introducción de los antineoplásicos orales (ANEO) en la terapéutica del cáncer ha supuesto un gran cambio en la práctica clínica. Presentan ventajas como proporcionar una mayor autonomía y comodidad al paciente. Sin embargo, tienen inconvenientes relacionados con su estrecho margen terapéutico, la complejidad de los regímenes de dosificación, las posibles interacciones con otros medicamentos y alimentos y la baja supervisión de su auto-administración por parte de los profesionales sanitarios, aumentando el riesgo de errores de medicación (EM) y la aparición de resultados negativos asociados a la medicación (RNM). Por otra parte, la investigación clínica forma parte del manejo diario de los pacientes con enfermedades tumorales. La American Society of Clinical Oncology (ASCO) y la European Society of Medical Oncology (ESMO) recogen entre sus estándares de calidad en la atención al paciente onco-hematológico, ofrecer al paciente la posibilidad de participar en ensayos clínicos (EECC). La participación en un EC debe estar precedida de una información adecuada sobre el EC, que se recoge en la hoja de información para el paciente. A pesar de recibir información verbal y escrita, existe una falta de conocimiento de los pacientes sobre el EC en el que participan. En el caso de un EC con tratamiento intravenoso, la administración del tratamiento y seguimiento del mismo, es realizado por personal sanitario formado y entrenado. Sin embargo, en un EC con ANEO, la responsabilidad de la correcta administración y manejo del tratamiento recae directamente en el paciente. Estos motivos hacen necesario que el paciente sea capaz de autogestionar aspectos del tratamiento tales como la administración, el manejo de efectos adversos (EA), la adherencia al tratamiento o la conservación y manipulación del medicamento. En este sentido, el farmacéutico, proporcionando al paciente Atención Farmacéutica (AF) individualizada, puede desempeñar un papel importante en el manejo de los ANEO, participando en estrategias educativas al paciente, previniendo y detectando tempranamente problemas relacionados con los medicamentos (PRM) y RNM, y monitorizando y promocionando la adherencia al tratamiento y haciéndole partícipe en la toma de decisiones...
Introduction of oral antineoplastic (OAA) in cancer therapy has produced a great change in clinical practice. OAA have several advantages such as more autonomy and quality of life of the patient. However, they have known disadvantages related to their narrow therapeutic range, the complexity of dosing regimens, possible interactions with other drugs and foods and the low supervision of their self-administration by health professionals, increasing the risk of medication errors (ME) and the appearance of negative outcomes associated with medication (NOM). On the other hand, clinical research is part of the daily management of patients with tumor diseases. The American Society of Clinical Oncology (ASCO) and the European Society of Medical Oncology (ESMO) include among their quality standards in onco-hematologic patient care, the possibility for the patient to participate in clinical trials (CTs). Participation in a CT should be preceded by adequate information of them. This information is recognized in the Patient Information Sheet. Despite receiving verbal and written information, several studies reveal the lack of knowledge of the patients about the CT in which they participate. In the case of CT with intravenous treatment, the administration of the treatment and follow-up of the same is performed by trained health personnel. However, in a CT with OAA, the responsibility of the handling and correct administration of the treatment rests directly on the patient. These reasons make it necessary for the patient to be able to self-manage aspects of treatment such as administration, management of adverse events (AE), adherence to treatment or preservation and manipulation of the drug. In this sense, the pharmacist can play an important role in the management of OAA, providing to the patient individualized Pharmaceutical Care (PC). These strategies consist in early warning and detection of drug related problems (DRP) and NOM, and monitoring and promoting adherence to treatment and making them a participant in decision-making...
Description
Tesis inédita de la Universidad Complutense de Madrid, Facultad de Farmacia, Departamento de Farmacología, leída el 05-06-2017
Collections