Publication:
Underground argon radio-purity studies for DarkSide-20k and R&D on noble gas detectors for rare-events investigations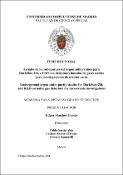 Authors
Advisors (or tutors)
Editors
Publisher
Universidad Complutense de Madrid
Abstract
There are strong pieces of evidence suggesting that ordinary matter, composed by baryons and leptons, is only the 5 % of the energy-matter content of the Universe. It is necessary to include two new components to account for all the energy-matter density in the Universe and thus explain astrophysical observations on a cosmological scale. The first one is a new, collision-less and non-luminous type of matter, called dark matter (DM), whose interactions with ordinary matter are mainly through the gravitational force. The second one is a uniformly distributed component called dark energy, which is thought to be responsible for the accelerated expansion of the Universe. According to the latest PLANCK satellite data, the dark energy accounts for 69 % of the content of our Universe and the dark matter for the 27 % [1]. The nature of dark matter and dark energy is one of the most relevant problems incurrent physics...
Hay evidencias significativas que sugieren que la materia ordinaria compuesta por bariones y leptones, representa solo el 5 % del contenido de energía-materia del Universo. Para dar cuenta de toda la densidad de energía-materia y explicar las observaciones astrofísicas a escala cosmologica es necesario incluir dos nuevos componentes. La primera es un nuevo tipo de materia, no luminosa y que no sufre colisiones, llamada materia oscura (DM), cuyas interacciones con la materia ordinaria son principalmente a traves de la fuerza gravitatoria. La segunda es una componente uniformemente distribuida llamada energía oscura, que se le atribuye ser responsable de la expansion acelerada del Universo. Segun los ultimos datos del satelite PLANCK, la energía oscura representa el 69 % del contenido de nuestro Universo y la materia oscura el 27 % [1]. La naturaleza de la materia oscura y la energía oscura es uno de los problemas mas relevantes en la física actual...
Description
Tesis inédita de la Universidad Complutense de Madrid, Facultad de Ciencias Físicas, leída el 31-05-2021
Collections