Publication:
Modified gravity as a diagravitational medium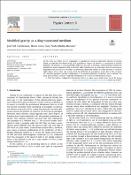 Advisors (or tutors)
Editors
Abstract
In this letter we reflect on the propagation of gravitational waves in alternative theories of gravity, which are typically formulated using extra gravitational degrees of freedom in comparison to General Relativity. We propose to understand that additional structure as forming a diagravitational medium for gravitational waves characterized by a refractive index. Furthermore, we shall argue that the most general diagravitational medium has associated an anisotropic dispersion relation. In some situations a refractive index tensor, which takes into account both the deflection of gravitational waves due to the curvature of a non-flat spacetime and the modifications of the general relativistic predictions, can be defined. The most general media, however, entail the consideration of at least two independent tensors.
Description
©2018 The Authors We thank J. M. Ezquiaga for useful comments. This work is supported by the project FIS2016-78859-P (AEI/FEDER, UE). PMM gratefully acknowledges financial support provided through the Research Award L'Oreal-UNESCO FWIS (XII Spanish edition).
Collections