Publication:
Estudio de la seguridad del protocolo TPMS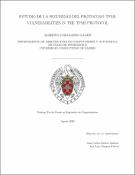 Authors
Advisors (or tutors)
Editors
Abstract
La seguridad vial constituye uno de los problemas sociales y económicos más importantes de nuestro tiempo. Los avances tecnológicos en el área de las telecomunicaciones y el diseño de distintos dispositivos electrónicos especializados contribuyen a prevenir los accidentes, ya que inciden de forma directa en la seguridad activa del vehículo. Algunos de estos dispositivos de protección se han decretado obligatorios en la fabricación en serie de vehículos. De esta forma, sistemas como ABS (Anti-lock Braking System), Airbags frontales, ESP (Electronic Stability Program) y TPMS (Tire Pressure Monitoring System) ya vienen incorporados. A la vez que la Unión Europea hizo obligatorio el ESP, la norma se completó con la incorporación de los sistemas TPMS. Este sistema proporciona información acerca del estado de los neumáticos y mediante señales de radio la envía al sistema central del vehículo, para en última instancia lanzar alertas sobre cambios de temperatura y presión. En el aspecto de seguridad vial el sistema TPMS proporciona grandes beneficios, yaque es capaz de alertar de anomalías en los neumáticos, lo que contribuye a evitar posibles accidentes. Sin embargo, a pesar de sus indudables ventajas, es necesario tener en cuenta el aspecto de la seguridad desde un punto de vista tecnológico. En el estudio que se llevará a cabo evaluaremos los riesgos de estos sensores, analizando cómo podría verse comprometida la seguridad ante un ataque de réplica de la señal o manipulación de la misma.
Road safety is one of the most important social and economic problems of our time. Technological advances in the area of telecommunications and the design of various specialized electronic devices help prevent accidents as they have a significant direct impact on active vehicle safety. Some of these protection devices have been decreed mandatory in mass production of vehicles, thus systems such as ABS (Anti-lock Braking System), Front Airbags, ESP (Electronic Stability Program) and TPMS (Tirepressure Monitoring System) are already incorporated. At the same time that the European Union made ESP mandatory, the standard was completed with the incorporation of TPMS systems. This system provides tire condition information. With radio signals it is able to send this information to the central system of the vehicle, this central system will throw alerts about possible changes of temperature and pressure. In terms of road safety, the TPMS system provides great benefits as it is able to alert about anomalies at the tires, which contributes to avoid possible accidents. However, despite its undoubted advantages, it is necessary to take into account the aspect of security from a technological point of view. In the study that will be carried out we will evaluate the risks of these sensors, analyzing how the safety can be compromised in the event of a attack by signal replication or manipulation of it.
Description
Trabajo de Fin de Grado en Ingeniería de Computadores, Facultad de Informática UCM, Departamento de Arquitectura de Computadores y Automática, Curso 2019/2020. A continuación se proporciona un enlace al código del proyecto. https://github.com/alberc01/VULNERABILITIES-IN-THE-TPMS-PROTOCOL