Publication:
Study of the chemo-dynamical coupling in the formation of solar-like stars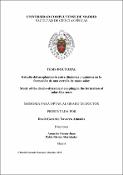 Files
Authors
Advisors (or tutors)
Editors
Publisher
Universidad Complutense de Madrid
Abstract
Astrochemistry is the study of the chemical composition of interstellar objects and the chemical reactions occurring in space. How species interact have a great impact in the process ofstar formation. In fact, determining aspects for the dynamical behavior of interstellar matterare the gas cooling rate and the ionization degree, highly influenced by the gas chemistryand molecular abundances. Indeed, efficient gas cooling diminishes thermal supportagainst gravity, leading to fragmentation and collapse of molecular filaments into pre-stellarcores. Here, elemental depletions of Carbon (C) and Oxygen (O) are key to determine thecooling rate of the gas, as CO and CII are the main coolants in molecular clouds. The ionizationfraction of the gas is involved in gas dynamics as well, since it controls the couplingof the gas with the magnetic fields. Magnetic fields thus drive the dissipation of turbulenceand angular momentum transfer in the cloud collapse and the dynamics of accretion disks.The ionization fraction of the gas is, in absence of other ionization agents like X-rays, UVphotons, and shocks, proportional to ³H2 , the cosmic-ray ionization rate for H2 molecules.Other factors that affect the ionization degree of the gas are the molecular abundances andelemental depletion factors. Towards the surface of a cloud (Av Ç 4 mag), Carbon is the maindonor of electrons. Deeper into the cloud however, in the range Av » 4¡7 mag, Sulphur (S)becomes the main donor of electrons. This range of extinctions encompasses a large fractionof the molecular cloud's mass...
La astroquímica es el área de estudio que investiga la composición química de los objetos interestelares y las reacciones químicas que tienen lugar el ellos. La interacción entre especies químicas tiene un gran impacto en el proceso de formación estelar. Dos aspectos fundamentales para el comportamiento dinámico de la materia interestelar son el ritmo de enfriamiento del gas interestelar y su grado de ionización, altamente influenciados por la química en fase gaseosa y las abundancias químicas presentes. En efecto, un enfriamiento eficiente del gas disminuye el soporte térmico de éste contra la fuerza de la gravedad, provocando la fragmentación y colapso de filamentos moleculares en núcleos pre-estelares. La depleción de los elementos carbono (C) y oxígeno (O) es crucial en este aspecto, ya que CO y CII son los principales refrigerantes del gas en nubes moleculares. Al igual que el ritmo de enfriamiento del gas, su fracción de ionización juega un papel importante en su dinámica, ya que controla su acoplamiento con los campos magnéticos. Estos campos dirigen la disipación de la turbulencia y la transferencia de momento angular en el colapso de una nube, y la dinámica de los discos de acreción. La fracción de ionización del gas es, en ausencia de otros agentes ionizantes como los rayos X, fotones ultravioleta o choques, proporciona la ³H2 , la tasa de ionización por rayos cósmicos para moléculas de hidrógeno. Otros factores que afectan al grado de ionización del gas son las abundancias moleculares y los factores de depleción elementales. Así, en la superficie de una nube molecular (Av Ç 4 mag), el carbono es el principal donador de electrones, mientras que el azufre (S) lo es en regiones internas en las que Av » 4¡7 mag. Este rango de extinciones comprende una fracción importante de la masa de la nube...
Description
Tesis inédita de la Universidad Complutense de Madrid, Facultad de Ciencias Físicas, Departamento de Física de la Tierra y Astrofísica, leída el 15-12-2021
Collections