Publication:
Implicación de la vía kinurenina en los efectos inmediatos y a largo plazo inducidos por 3,4-metilendioximetanfetamina (MDMA, éxtasis) en cerebro de rata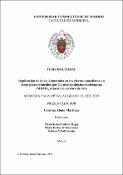 Files
Authors
Advisors (or tutors)
Editors
Publisher
Universidad Complutense de Madrid
Abstract
MDMA es un derivado anfetamínico con actividad psicotropa que afecta principalmente al sistema serotoninérgico [1]. Numerosos trabajos han descrito que la administración de dosis neurotóxicas de MDMA disminuye la concentración de serotonina (5-HT) y la densidad de los transportadores de 5-HT (SERT) en el hipocampo y la corteza frontal [2-5]. Este efecto neurotóxico está estrechamente relacionado con el estrés oxidativo generado de forma inmediata tras la administración de la droga, ya que se ha observado una disminución del daño serotoninérgico inducido por MDMA tras la administración de atrapadores de radicales libres y otras sustancias antioxidantes [6-8]...
MDMA is an amphetamine derivative, which exhibits psychotropic activity with the serotoninergic system as its primary target [1]. Previous studies have revealed that MDMA administration causes a marked decrease in serotonin (5-HT) concentration and density of 5-HT transporters (SERT) in hippocampus and frontal cortex, constituting experimental evidence for serotonergic toxicity induced by the drug [2-5]. The neurotoxic effect is closely related to MDMA-induced oxidative stress since free radical scavengers and other antioxidant substances protect against the serotonergic damage produced by the drug [6-8]...
Description
Tesis inédita de la Universidad Complutense de Madrid, Facultad de Medicina, leída el 26-07-2019
Collections