Publication:
Migración dominicana de retorno hacia una tipología del retorno transnacional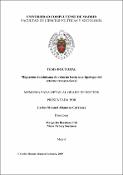 Files
Authors
Advisors (or tutors)
Editors
Publisher
Universidad Complutense de Madrid
Abstract
La presente investigación, titulada "Migración dominicana de retorno. Hacia una tipología del retorno transnacional", tiene por objetivo analizar la migración de retorno desde una perspectiva transnacional, viendo el retorno como un proceso y al Estado como un actor importante al respecto. Esta forma de abordar el fenómeno del retorno es coherente con las teorizaciones más actuales del transnacionalismo, las cuales, lejos de negar el impacto del Estado en la configuración de rutas, prácticas y dinámicas transnacionales, lo integran como un elemento más de análisis. Durante la década de los 1990 y principios de los 2000, la producción académica sobre el transnacionalismo se concentró en postular y conceptualizar ese nuevo enfoque analítico. A mediados de los 2000, su teorización contaba con una importante literatura que versaba tanto a favor como en contra de su originalidad y alcance. Hacia finales de esa misma década, el concepto experimentó una profunda reconceptualización, la que, entre otros aspectos, incorporaba la importancia de la escala estatal como una dimensión constitutiva en el desarrollo de estas migraciones. Esta tesis asume las revisiones teórico-metodológicas de ese tercer momento de conceptualización del transnacionalismo en el análisis de la migración dominicana de retorno desde España. Desde su inicio, la migración dominicana a España se caracterizó por ser femenina, rural y, eminentemente, laboral...
This research, titled "Dominican return migration. Towards a transnational return typology", aims to analyze return migration from a transnational perspective, seeing return as a process and the State as an important actor in this regard. Addressing the phenomenon of return in this way is consistent with the most current theorizations of transnationalism. The latter, far from denying the impact of the State on the configuration of routes, practices and dynamics, integrate it as one more element of the analysis. During the 1990s and early 2000s, academic production on transnationalism focused on conceiving and conceptualizing this new analytical approach. In the mid-2000s, transnationalism had an important body of literature that was both for and against its originality and scope. Towards the end of the same decade, the concept underwent a profound reconceptualization, which, among other aspects, incorporated the importance of the State scale as a constitutive dimension in the development of these migrations. This thesis assumes the theoretical-methodological revisions of that third moment of conceptualizing transnationalism in the analysis of Dominican return migration back from Spain. From the very beginning, Dominican migration to Spain was characterized by being female, rural, and economic in nature. According to empirical findings made in the framework of this research, this migration began by the intervention of a religious center, founded and led by a Spanish nun, which was a fundamental factor in the formation of these flows in the late 1970s and during the 1980s...
Description
Tesis inédita de la Universidad Complutense de Madrid, Facultad de Ciencias Políticas y Sociología, Departamento de Sociología, leída el 29-11-2019
Collections