Publication:
Homosocialidad y secretismo en la experiencia de los hombres que consumen prostitución en España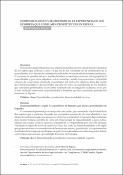 Authors
Advisors (or tutors)
Editors
Publisher
Associação Portuguesa de Estudos sobre as Mulheres – APEM
Abstract
El consumo de prostitución es una práctica masculina que trasciende la individualidad de los sujetos que la llevan a cabo, ya que ha de ser conectada con la construcción de la masculinidad y los rituales de confraternización sobre los que se articulan estas experiencias. El consumo de prostitución para muchos hombres se constituye como un ritual grupal de la masculinidad y, para otros, adquiere carácter colectivo cuando la experiencia es compartida a través de la narración vinculada al secretismo del pacto entre caballeros. Para dar cuenta de la homosocialidad y del secretismo que gira en torno las experiencias de los hombres que consumen prostitución, se presentan resultados de investigación cualitativa en la que se han realizado entrevistas en profundidad a hombres que han consumido prostitución femenina en España.
Paying for prostitution is a male practice that transcends the individuality of the subjects who carry it out, since it has to be connected with the construction of masculinity and the fraternization rituals in the context of which these experiences occur. The consumption of prostitution for many men is a group ritual of masculinity and, for others, it acquires a collective dimension when the experience is shared through narration linked to the secrecy of the gentlemen's agreement. In order to explain the homosociality and secrecy involved in the experiences of men who pay for prostitution, this paper presents the results of a qualitative research study which included in-depth interviews with men who payed for female prostitution in Spain.
Collections