Publication:
De excluyentes y comprensivos : la revista Correo Literario y la cultura franquista del medio siglo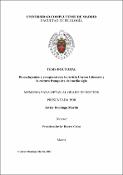 Files
Authors
Advisors (or tutors)
Editors
Publisher
Universidad Complutense de Madrid
Abstract
En esta tesis doctoral, nos ocupamos de estudiar la revista Correo Literario: desde su fundación en 1950 hasta su etapa final barcelonesa y posterior clausura en 1955. Las revistas culturales, en tanto estructuras estructurantes de las principales polémicas que se desarrollaron dentro de los círculos de poder intelectual franquistas y estructuradas por los discursos ideológicos y estéticos de los diferentes grupos en pugna por la hegemonía cultural, son objetos de estudio fundamentales para la historiografía literaria. Desde esta perspectiva, este trabajo supone una contribución a la descripción y análisis del campo de las revistas culturales, en germen en la década de los cincuenta, y, en particular, al intenso debate que se produjo entre comprensivos y excluyentes, con raíces en los años cuarenta pero que llegó a sus cotas más altas de intensidad en el medio siglo. Hemos desarrollado, en primer lugar, un modelo teórico de análisis de las revistas literarias y culturales, eficaz para la generación de nuevos significados y la apertura de nuevas preguntas, reproducible en otros objetos de estudio más allá del caso concreto de Correo Literario. A partir de un enfoque teórico deudor de Pierre Bourdieu hemos defendido la idoneidad de la teoría del campo en la consideración del producto-revista como un objeto autónomo, que requiere, por tanto, de herramientas metodológicas específicas, y que permite relacionar la realidad material de la revista (en su doble dimensión espacial y temporal), con el espacio social en que esta se sitúa...
In this essay, we study the magazine Correo Literario: from its foundation in 1950 to its final stage in Barcelona and its subsequent closure in 1955. Cultural magazines, as structuring structures of the main controversies that developed within the circles of Franco's intellectual power and structured by the ideological and aesthetic discourses of the different groups in struggle for cultural hegemony, are fundamental objects of study for literary historiography. From this perspective, this work supposes a contribution to the description and analysis of the field of cultural magazines, in germ in the 1950s, and, in particular, to the intense debate that took place between comprensivos and excluyentes.We have developed, firstly, a theoretical model for the analysis of literary and cultural magazines, effective for the generation of new meanings and the opening of new questions, reproducible in other objects of study beyond the specific case of Correo Literario. Starting from a theoretical approach due to Pierre Bourdieu, we have defended the suitability of the field theory in considering the product-magazine as an autonomous object, which requires specific methodological tools, and allows to relate the material reality of the magazine (in its double spatial and temporal dimension), with the social space in which it is situated...
Description
Tesis inédita de la Universidad Complutense de Madrid, Facultad de Filología, leída el 16-12-2021
Collections