Publication:
Dilemas de seguridad en la nueva realidad estratégica israelí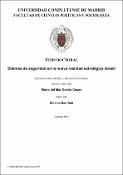 Files
Authors
Advisors (or tutors)
Editors
Publisher
Universidad Complutense de Madrid
Abstract
Israel nace en guerra por su independencia en 1948 y, desde entonces, se ha visto sometido a diversos tipos de amenazas, desde las guerras totales o convencionales a los conflictos de baja intensidad o asimétricos que presiden el actual entorno estratégico de Israel. En tan sólo seis décadas, Israel ha desarrollado su pensamiento doctrinal, su cultura estratégica y su respuesta operativa enfrentándose a siete guerras convencionales y a diversos conflictos irregulares. Analizar cómo Israel ha gestionado este tipo de conflictos y cómo ha conformado una respuesta operativa es relevante puesto que es el mejor ejemplo para entender qué tipo de dilemas (aunque diferentes) se encuentran actualmente las democracias occidentales que han de enfrentarse a este tipo de escenario no convencional4. La diferencia entre Israel y el resto de los Estados democráticos es que Israel percibe que se enfrenta a una amenaza existencial. Esta percepción se debe a una historia y experiencia únicas, a unas características geoestratégicas y a una forma de percibir el entorno que han propiciado el desarrollo de una respuesta comúnmente calificada como de "desproporcionada"5. Esta respuesta forma parte de la cultura estratégica israelí. Los idealistas del sionismo que dieron forma ideológica y material al sueño sionista se encontraron en Palestina con una realidad compleja. El entorno que tuvieron que enfrentar hizo necesario la creación de unas herramientas militares y de una filosofía militar que, con el tiempo, dio origen a la actual doctrina de defensa del Estado de Israel. Esta doctrina de defensa fue esencial para asegurar la supervivencia de un Estado cuyo nacimiento quedó vinculado a dos acontecimientos traumáticos: el Holocausto y la Guerra de Independencia de 1948. Ambas experiencias al borde de la aniquilación y la ausencia de seguridad en el entorno justificaron la necesidad de dotarse de alta capacidad militar y de proyección de poder al mismo tiempo que conformaron el concepto de seguridad nacional: pensar en el peor escenario posible. Por lo tanto, los antecedentes del pensamiento doctrinal y de la estructura de fuerzas, así como la respuesta operativa de Israel, se gestaron en el período anterior al establecimiento estatal...
Througout its history, Israel has faced several threats and challenges to its national security. In the first half century of its existence, Israel fought six total wars with its Arab neighbors. The 1948 Arab-Israeli War broke out when five Arab nations invaded territory in the former Palestine Mandante immediately following the announcement of the Independence of the State of Israel. Since then Israel has suffered of all kinds of threats, from total wars with its neighbors to low intensity conflicts or asymmetrical wars. Last kind of wars typifies the current Israeli strategic environment. In just six decades Israel has developed its doctrinal thinking, its strategic culture, and its operational response to face both conventional wars and irregular conflicts. How Israel has managed these conflicts and how created an operational response is relevant to analyze because it is the best example to understand what kind of dilemmas Wester democracies are going to confront in such unconventional scenarios1. The main difference between Israel and the rest of democratic States is that Israel feels confronting an existential threat. This special perception is due to uniqueness of its history and experience, its geostrategic vulnerability, and the way of perceiving its security environment. Theses features had led to develop an operational response commonly described as "disproportionated"2. This operational response is part of the Israeli strategic culture. Zionist leaders who produced the ideological and the material form of the zionist dream in Palestine met a complex reality when they arrived there. The environment they had to confront in Palestine urged the creation of military tools and a military philosophy which led over time to the current Israeli doctrine of defense. Developing a defense doctrine was essential to ensure the survival of the newly State...
Description
Tesis de la Universidad Complutense de Madrid, Facultad de Ciencias Políticas y Sociología, leída el 27/03/2017
Collections