Publication:
Uso de la presión continua de la vía aérea (CPAP Boussignac) como profilaxis de las complicaciones respiratorias postoperatorias en los pacientes sometidos a cirugía de resección pulmonar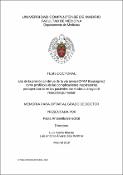 Authors
Advisors (or tutors)
Editors
Publisher
Universidad Complutense de Madrid
Abstract
Los pacientes que se someten a cirugía de resección pulmonar tienen riesgo de desarrollar graves complicaciones que pueden afectar el curso normal de su recuperación. Las complicaciones pulmonares postoperatorias son el principal factor que aumenta la morbilidad postoperatoria. La cirugía con resección y manipulación del parénquima pulmonar y caja torácica, el dolor, la intubación y uso de los agentes anestésicos, así como la disfunción diafragmática secundaria, perjudican la función y la coordinación de los músculos respiratorios reduciendo la capacidad residual funcional lo que en conjunto, predisponen el desarrollo de atelectasias. La atelectasia a su vez, aumenta el riesgo de neumonía postoperatoria e insuficiencia respiratoria aguda derivando en un aumento de la morbimortalidad y una estancia hospitalaria prolongada. La ventilación mecánica no invasiva y/o presión continua en la vía aérea (VMNI/CPAP) permite el reclutamiento de unidades alveolares de las vías respiratorias colapsadas y aumento de la capacidad residual funcional lo que mejora la oxigenación y disminuye el trabajo respiratorio lo que contribuiría a la prevención de complicaciones pulmonares en el período postoperatorio...
Patients who undergo lung resection surgery are at risk of developing serious complications that may affect the normal course of their recovery. Postoperative pulmonary complications are the main factor that increases postoperative morbidity. Surgery with resection and manipulation of the lung parenchyma and rib cage, pain, intubation and use of anesthetic agents as well as secondary diaphragmatic dysfunction, impair the function and coordination of the respiratory muscles, reducing the functional residual capacity, which predispose the development of atelectasis. Atelectasis, in turn, increases the risk of postoperative pneumonia and acute respiratory failure leading to an increase inmorbidity and mortality and a prolonged hospital stay. Non-invasive mechanical ventilation and / or continuous airway pressure (NIMV / CPAP) allows the recruitment of alveolar units of the collapsed airways and increase in functional residual capacity, which improves oxygenation and decreases respiratory work, which would contribute to the prevention of pulmonary complications in the postoperative period...
Description
Tesis de la Universidad Complutense de Madrid, Facultad de Medicina, Departamento de Medicina, leída el 20-12-2018
Collections