Publication:
Incentivos fiscales para los Business Angels en España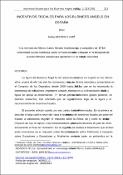 Authors
Advisors (or tutors)
Editors
Publisher
Facultad de Ciencias Económicas y Empresariales. Escuela de Estudios Cooperativos
Abstract
La figura del Business Angel ha ido adquiriendo relevancia en España en los últimos años, prueba de ello han sido las numerosas propuestas, de distinta naturaleza, presentadas en el Congreso de los Diputados, desde 2005 hasta 2013, en las que se ha reconocido la importancia de los Business Angels como canales alternativos a la financiación tradicional y figura de apoyo al emprendedor. En dichas propuestas, diferentes grupos políticos, en distintos momentos, han solicitado que se regulara el marco legal de la figura y el reconocimiento de incentivos fiscales. El presente artículo cuenta con tres partes claramente diferenciadas. En la primera se describe el largo camino recorrido hasta el reconocimiento de incentivos fiscales por parte del Estado, a los Business Angels en el Impuesto sobre la Renta, tal y como se deduce del Proyecto de Ley de Apoyo a los Emprendedores y su Internacionalización de julio de 2013, actualmente en fase de tramitación. En la segunda parte, se analiza el tratamiento que reciben estas inversiones en el Impuesto sobre Sociedades, Impuesto sobre Patrimonio e Impuesto sobre Sucesiones y Donaciones y, finalmente en la tercera parte, se profundiza en la tributación de los rendimientos de los Business Angels en el Impuesto sobre las Renta de las Personas Físicas, centrándose especialmente en las deducciones autonómicas, por adquisición de acciones o participaciones, previstas en este impuesto.
Business Angels have become more important in Spain in the last years, as proved by the different proposals submitted in the Congress between 2005 and 2013. In these proposals Business Angels have been recognized as an alternative source of finance to traditional financing and an important support for entrepreneurs. In these proposals, different political groups, at different times, have requested a legal framework and tax incentives for Business Angels. This article has three parts. In the first part, describes the long way to the recognition of tax incentives on the part of the State, to the Business Angels in the Income Tax, as it emerges from the draft Bill to support entrepreneurs and their internationalization of July of 2013. In the second part analyzes the treatment received by these investments in the Corporation Tax, Property Tax and Inheritance Tax. Finally, the third part deepens in Income Tax, focusing especially on the deductions, approved by Autonomus Communities for acquisition of shares.
Description
A la memoria de Alfonso Carlos Morales Gutiérrez, amigo y compañero de ETEA-Universidad Loyola Andalucía, quien de forma incansable trabajaba en la búsqueda de nuevas fórmulas sociales que aportaran luz en tiempos de oscuridad.
Citation
BRITISH BUSINESS ANGELS ASSOCIATION (2009), Business Angel Investing. A guide to the Legal Tax and Regulatory Issues, Departament for business, innovation and skill. GARLANDED S. y NAPIER G. (2003). Handbook in business and networks. The Nordic case, Stockholm school of entrepreneurship. (http://www.nordicinnovation.org/Global/_Publications/Reports). KEUSCHNIGG Ch., NIELSEN S. (2002), "Tax policy, capital and entrepreneurship", Journal of Public Economic, num. 87, pp. 175-203. HARRISON R. y MASON C.M., "Venture capital market complementarities: the links between angels and venture capital funds in UK", Venture capital: an International Journal of Entrepreneurial Finance, num. 2, pp. 287-311. MASON, C. (2009). Public policy support for the informal venture capital market in Europe: a critical review", International small business Journal, vol. 27. MASON C.M. y HARRISON R.T. (2004). "Improving access to early stage venture capital in regional economics: a new approach to investment readiness". Local Economy, 19 (2), pp. 159-163. PIÑA GARRIDO, L. (2011), "La deducciones autonómicas en el IRPF para incentivas la adquisición de acciones y participaciones en sociedades, los business angels y el mercado alternativo bursátil", REAF, núm 13, pp. 246-286. WETZEL, W. (1983). "Angels and informal risk capital", Sloan Management Review, 24:4, pp. 23-34. VVAA (2009), Análisis de tributación comparada de la figura de los Business Angels en Europa. Estudio para la propuesta de medidas fiscales de fomento. Ministerio de Industria, Turismo y Comercio, del Gobierno de España. (http://www.ipyme.org/Publicaciones/BUSINESSANGELS_AnalisisTributacionComparada). VVAA. (2011), dirigido por A. De la Torre Gallegos y F. Jiménez Naharro, Estudio del capital privado informal y de las redes de Business Angels en Andalucía como fuente de financiación para emprendedores y creación de nuevas empresas, Escuela Andaluza de Economía. (http://www.webcapitalriesgo.com/descargas/2030_01_12_1520633565.pdf). VVAA (2004), Los business angels en España, una nueva vía de financiación para la PYME. Estudio para el fomento de las redes de Business Angels en España, coordinado por ESBAN, Editado por el Ministerio de Industria, Turismo y Comercio del Gobierno de España.(http://www.ipyme.org/.../IPYME/.../Finanziacion/businesangelsestudio.pdf). VVAA (2008), Naturaleza de las redes de business angels existentes en España y principales características de los agentes de mercado, ESBAN y el Ministerio de Industria, Turismo y Comercio del Gobierno de España.(http://www.ipyme.org/Publicaciones/AgentesDelMercado.pdf).
Collections