Publication:
El perfil criminológico del delincuente sexual desconocido : análisis predictivo aplicado a la investigación criminal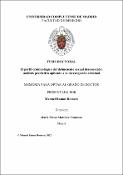 Files
Authors
Advisors (or tutors)
Editors
Publisher
Universidad Complutense de Madrid
Abstract
La violencia sexual es uno de los fenómenos criminales que mayor repercusión mediática han tenido en la última década y que más preocupan a la sociedad. Durante este tiempo, actores sociales y políticos han implementado campañas públicas de concienciación dirigidas tanto a la prevención como a la visualización de una fenomenología que se entendía oculta. Según el Ministerio del Interior (2019), el número de delitos contra la libertad y la indemnidad sexual conocidos ha ido aumentando anualmente, llegándose a registrar un total de 15.319 delitos sexuales en el año 2019. Esta cifra supuso casi el doble de los 8.923 casos conocidos en 2013. Se aprecia, por tanto, un patrón consistente de crecimiento de casos registrados pudiéndose advertir un comportamiento estacional en el que el mayor volumen de delitos de esta índole se acumula en los meses de verano. En cuanto a las tipologías delictivas más presentes, los abusos y agresiones sexuales con o sin penetración suponen el 78% del total de los casos registrados en 2019...
Sexual violence is one of the criminal phenomena that have had the greatest media coverage in the last decade and are of most concern to society. During this time, social and political actors have implemented public awareness campaigns aimed at both to the prevention and the visualization of a phenomenology that was understood to be hidden. In this sense, the number of known sexual crimes have been increasing annually, reaching a total of 15,319 crimes in 2019. This figure meant almost the double of the 8,923 known cases reached in 2013. It can be noticed therefore, a registered cases increase pattern, detecting a sessional behaviour with summer months higher volume of sexual crimes. Regarding the most common criminal typologies, sexual abuse and assault with or without penetration accounted for 78% of the total cases registered in 2019...
Description
Tesis inédita de la Universidad Complutense de Madrid, Facultad de Derecho, leída el 06-06-2022
Collections