Publication:
Lenguaje y verdad en Heidegger: ninguna cosa sea donde falta la palabra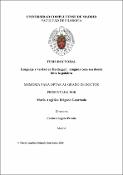 Files
Authors
Advisors (or tutors)
Editors
Publisher
Universidad Complutense de Madrid
Abstract
Lenguaje y verdad en Heidegger. Ninguna cosa sea donde falte la palabra, es una indagación sobre el lenguaje que nace de problematizar el lógos humano conforme a la noción de verdad, de acuerdo con la interpretación que de ella proporciona Martin Heidegger. La verdad subyace en toda la meditación filosófica heideggeriana. Es en el periodo de los años 30 (especialmente en el diálogo que entabla Heidegger con Aristóteles y su noción de phy-sis) donde con más rotundidad, nuestro autor relaciona el lógos, la verdad y la physis. Heidegger interpreta esta última noción ateniéndose al movimiento y la concibe como un modo del ser, específicamente: «venida a la presencia». Un constante estar llegando que nunca se agota ni se alcanza de manera definitiva. Esta idea de physis, diferente a la interpretación de la tradición (en la que physis está asociada a natura según la traducción latina), proporciona a Heidegger la herramienta para sustentar su noción de verdad entendida, precisamente, como desocultamiento de lo ente. Un desocultamiento que se manifiesta como eîdos, como morphé, es decir, como physis. El filósofo alemán, analizando la physis desde la kínesis, observa que la propia movilidad es el arché de aquello que está en movimiento. El ente que viene a la presencia guarda dentro de sí la propia posibili-dad para volver a aparecer: ocultamiento/desocultamiento, es decir, alétheia...
Language and Truth in Heidegger. Where no word is, there can be no thing is an inquiry into the language that arises from problematizing the human logos according to the notion of truth, in accordance with the interpretation provided by Martin Heidegger. Truth un-derlies all the heideggerian philosophical meditation, but it is this period of the 30s (specially in the dialogue Heidegger engages with Aristotle and his notion physis) where, more emphatically, our author relates logos, truth and physis. Heidegger inter-prets this last notion as movement, as a mode of being. The "coming into presence" is a constant reaching that is never exhausted or achieved. This idea of physis, different from the interpretation of tradition (in which physis is associated with nature according to the Latin tradition) provides Heidegger with the tool to sustain his notion of truth un-derstood as the unveiling of being. An uncovering that manifests itself in a similar way to coming into presence as eîdos, as morphé, that is, as physis. Then, the German philoso-pher, analyzing physis from kínesis, observes that the mobility is the arché of that which is in movement. The entity that comes to the presence keeps inside itself the possibility to reappear: concealment/uncovering, that is, alétheia...
Description
Tesis inédita de la Universidad Complutense de Madrid, Facultad de Filosofía, Departamento de Lógica y Filosofía Teorética, leída el 12-06-2020
Collections