Publication:
DermaSystem : gestión informática en dermatología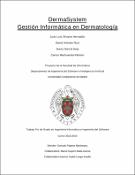 Advisors (or tutors)
Pajares Martinsanz, Gonzalo
Editors
Abstract
DermaSystem es un proyecto desarrollado como Trabajo de Fin de Grado que ha servido para que sus autores demuestren conocimientos adquiridos en la Ingeniería Informática, llevándolos a la práctica, tras sus años de estudio en la Facultad de Informática de la Universidad Complutense de Madrid. Además les ha dado la oportunidad de trabajar para un cliente real, la Doctora en medicina Dª Isabel Longo Imedio, especialista en Dermatología Médico-Quirúrgica y Venereología en el Hospital Central de la Defensa Gómez Ulla, quien propuso la iniciativa de desarrollar una aplicación de escritorio en la que apoyar sus labores de consulta con los pacientes, no sólo en la administración de los mismos, sino también en los posibles diagnósticos y tratamientos. Con tal propósito DermaSystem, que constituye la continuación de un trabajo previo desarrollado durante el curso anterior, se diseña con una doble funcionalidad intrínseca: a) desarrollar un módulo de gestión de la Base de Datos con fines de almacenamiento y recuperación de información (datos de pacientes, gráficos de diagnóstico e imágenes); b) desarrollo de un módulo de tratamiento de imágenes dermatológicas, que se almacenan en la Base de Datos tanto las originales como las procesadas para su posterior recuperación durante el proceso de consulta de información de pacientes. El principal objetivo fue llegar a cubrir todas las necesidades y requisitos para dicha aplicación, ampliando los ya existentes, con nuevas funcionalidades como el procesamiento de imágenes. La ampliación ha consistido exactamente en la mejora del módulo de gestión de la Base de Datos y el desarrollo completo del módulo de tratamiento de imágenes. Todo sin olvidar la gran importancia de hacer de DermaSystem una aplicación escalable, que pueda ser mejorada y ampliada en el futuro, expandiendo su funcionalidad con fin de convertirse en una herramienta imprescindible en los diagnósticos.
DermaSystem is a project developed as Final Degree Project that has allowed its authors to demonstrate the knowledge acquired in Computer Science, putting it into practice, after years of study in Facultad de Informática, at Universidad Complutense de Madrid. In addition, it has brought the opportunity to work for an actual client, the Medicine Doctor Ms. Isabel Longo Imedio, specialist in Medical-Surgical Dermatology and Venereology at Hospital Central de la Defensa Gómez Ulla, in Madrid, who suggested the initiative of developing a desktop application to support her work in patient consultation. Not only to have them managed, but also with possible diagnostics and treatments. With that purpose DermaSystem, which is the extension of a previous work developed during the last course, is designed with a twofold functionality: a) development of a database management module to store and recover information (patients' data, diagnostic graphics and images); b) developments of a module to process dermatologic images, stored in the database, both the original ones and the processed, so they can be recovered during the consults with patients. The main aim was to cover all needs and requirements for this application, extending the previous ones, with new functionalities like image processing. The extension has consisted in the database module improvement and the complete development of the new image processing module. All this without forgetting the immense importance of making DermaSystem scalable, getting improved and extended in the future, expanding its functionality in order to become an essential tool in diagnostic medical.
Description
Trabajo de Fin de Grado en Ingeniería Informática e Ingeniería del Software (Universidad Complutense, Facultad de Informática, curso 2013/2014)