Publication:
Salud, género, personalidad y aculturación en rumanas/os residentes en Rumanía y migrantes rumanas/os residentes en España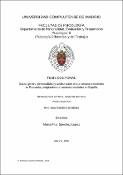 Files
Authors
Advisors (or tutors)
Editors
Publisher
Universidad Complutense de Madrid
Abstract
La migración es un fenómeno social muy complejo y las personas que migran no responden a un patrón único. En sociedades cada vez más diversas como la nuestra, la migración es un fenómeno que acentúa dicha diversidad a todos los niveles (social, cultural. económico, legal, etc.). El proceso migratorio es un fenómeno durante el cual se producen muchos cambios. La mayoría de los/as migrantes tienen que afrontar una serie de retos a lo largo de este proceso de situarse entre dos o más culturas y adaptarse a una nueva realidad en el país receptor. En este contexto. todo lo que está alrededor de la persona migrante se va modificando, desde aspectos básicos como la alimentación. las relaciones familiares y sociales, el clima, la lengua, el estatus, etc. Además, el proceso migratorio tiene consecuencias sobre la salud de los/as migrantes, en función de varias variables, como por ejemplo la aculturación, el género y la personalidad...
Migration is a complex social phenomenon and those who migrate do not respond to just one single pattern. In increasingly diverse societies like ours, migration is a phenomenon that accentuates this diversity on all levels (social, cultural, economíc, legal, etc.). The migration process is a phenomenon during which many changes occur. Most migrants have to face a number of challenges throughout this process, they find themselves between two or more cultures and have to adapt to a new reality in the host country. In this context, everything around the migrant is modífíed, from basics such as food, family and social relations, climate, language, status, etc. In addition, the migration process has implications on things such as health, depending on several variables such as acculturation, gender and personality...
Description
Tesis inédita de la Universidad Complutense de Madrid, Facultad de Psicología, Departamento de Personalidad, Evaluación y Tratamiento Psicológico II (Psicología Diferencial y del Trabajo), leída el 03/02/2016
Collections