Publication:
A geodesic completeness theorem for locally symmetric Lorentz manifolds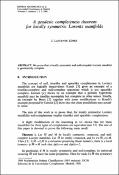 Authors
Advisors (or tutors)
Editors
Abstract
We prove that a locally symmetric and a null-complete Lorentz manifold is geodetically complete.
Citation
Beem, J. K.: Some examples of incomplete spacetimes. Gen. Rel. GRav., 7, 501-509 (1976). Geroch, R.: What is a singularity in general relativity? Ann. Phys. (N.Y.), 48, 526-540 (1968). Kundt, W.: Note on the completeness of spacetimes. ZS. Für Phys., 172, 488-489 (1963). O´Neill, B.: Semi-Riemanniam geometry with application to relativity. Academic Press. Inc., New York (1983).
Collections