Publication:
Central banking in war times: China 1927-1949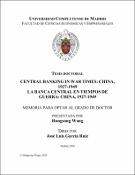 Files
Authors
Advisors (or tutors)
Editors
Publisher
Universidad Complutense de Madrid
Abstract
The central banking system has been a worldwide-adopted banking system since the 20th century, which influences political and economic structures profoundly in different countries to this day. Chinese Mainland is the second biggest economic entity, whose economic growth in the last 30 years gets the attention of the world. One hot topic is the function of China's central banking system. But the works for studying the establishment of China's central bank and the monetary thought debate behind the event still require further analysis. This thesis explains the establishment of China's central banking system by following the monetary thought debate among Chinese economists, politicians, and foreign financial specialists. They provided advice for monetary policy from 1927 to 1949.This research has the following three main objectives: Revise the monetary thought debate from 1927 to 1949 among Chinese economists, politicians, and Western financial specialists on how to improve the Chinese monetary system and how to build an effective central-banking system during wartime. Demonstrate how the establishment of central banking was supported by the monetary theories provided in the monetary thought debate...
El sistema de banca central ha sido el sistema bancario adoptado en todo el mundo desde el siglo XX, influyendo profundamente en las estructuras políticas y económicas de muchos países hasta nuestros días. China continental es la segunda potencia económica más grande a nivel internacional, cuyo crecimiento económico en los últimos 30 años ha llamado la atención en todo el mundo. Un tema candente relacionado con China es la función de su sistema de banca central. Sin embargo, los trabajos para estudiar la creación del banco central de China y el debate sobre el pensamiento monetario detrás de la aparición de dicha institución, aún requieren un análisis más detallado. Esta tesis explica el establecimiento del sistema de banca central de China siguiendo el debate del pensamiento monetario entre economistas y políticos chinos y especialistas financieros extranjeros, que brindaron asesoramiento para la política monetaria de 1927 a 1949...
Description
Tesis inédita de la Universidad Complutense de Madrid, Facultad de Ciencias Económicas y Empresariales, leída el 05-11-2020
Collections