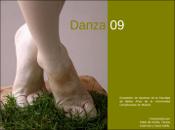 Authors
Advisors (or tutors)
Editors
Publisher
Ayuntamiento de Torrelodones
Abstract
Catálogo editado con motivo de la exposición titulada "Danza 09", celebrada del 18 al 27 de junio de 2009, en la Sala Villaseñor de la Casa de Cultura de Torrelodones, Madrid. En la exposición pudieron verse 13 esculturas de estudiantes de asignaturas de escultura, de la Facultad de Bellas Artes de la Universidad Complutense de Madrid. Las piezas estaban fabricadas en materiales tan dispares como resina, cerámica o papel, y todas trataban el tema de la danza.
This catalogue was published due to the exhibition entitled "Danza 09", which took place on the 18th to the 27th of June 2009, at Sala Villaseñor in the city council of Torrelodones, Madrid. On the exhibition were shown 13 sculptures of art from students of the subject sculpture of the Faculty of Arts at the "Complutense" University of Madrid. The works were made of so different materials as resin, ceramics or paper, and all of them referred to dance topics.
Description
Participantes: Pilar Acón Segura, Joaquín Álvarez Méndez, Raquel Angulo Castaño, Abril Armendáriz Tapia, Nadia Awamat Fernández, Aurel-Ghina Cazanaru, Raquel Cobos Climent, María Collado González, Maite Fortuny Balcells, Álvaro Lalanda González-Bueno, Juan Laorden Fiter, Isabel Martín Martín, Irene Ochoa Bernabé.
Collections