Publication:
nEoS: neutron star equation of state from hadron physics alone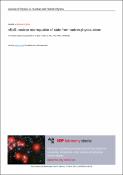 Advisors (or tutors)
Editors
Abstract
We contribute a publicly available set of tables and code to provide equations of state (EoS) for matter at neutron star densities. Our EoS are constrained only by input from hadron physics and fundamental principles, without feedback from neutron star observations, and so without relying on general relativity (GR). They can therefore be used to test GR itself, as well as modified gravity theories, with neutron star observables, without logical circularity. We have adapted state of the art results from NN chiral potentials for the low-density limit, pQCD results for the asymptotically high-density EoS, and use monotony and causality as the only restrictions for intermediate densities, for the EoS sets to remain as model-independent as is feasible today.
Description
© 2019 IOP Publishing Ltd. FJLE acknowledges the assistance of Ivan Sayago Galvan in the early stages of this investigation. Work was supported by grants MINECO:FPA2016-75654-C2-1-P (Spain); the EU COST Action PHAROS (CA16214); and by the US Department of Energy, Office of Science, Office of Nuclear Physics under Award Number #DE-FG02-05ER41375. AW acknowledges support by the Schrodinger Fellowship J 3800-N27 of the Austrian Science Fund (FWF).
Collections